Barts Health Trust yet to agree locum rates for shortage specialties
New pan-London standardised locum rates introduced for bank staff from April
Independent Health Professionals Association says rate cut is affecting locums' financial and mental wellbeing
Attempts to reduce locum medical spending in London are being hampered by concerns over staffing shortages, with one major trust delaying adoption of new lower pay rates.
HSJ has been told trusts across London were due to align their spending caps on bank locum pay rates by April, however Barts Health Trust has said it is still negotiating the rates because of "acute" staffing shortages.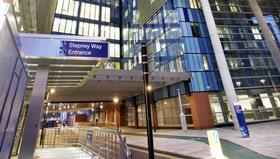 The trust runs five hospitals across London including the Royal London major trauma centre and is the biggest trust in the capital.
The new rates of pay were developed by the Pan London Bank and Agency Steering Group, which is made up of trusts across the city.
They were introduced by trusts for agency locums in October and were supposed to be rolled out across the capital for medical bank staff from April 2018.
The standard, enhanced and unsocial rates have been agreed for first year foundation doctors up to consultant level.
A Barts spokeswoman said: "We are working with other trusts in the capital to achieve agreement on a series of credible pan-London rates for medical locums, in order that all London providers can live within their means and fairly reward doctors undertaking temporary shifts.
"We have already agreed pan-London rates for some categories but more work is required on some specialities where staffing shortages are particularly acute."
In a letter sent to bank staff at Chelsea and Westminster Hospital Foundation Trust last month, seen by HSJ, medical director Zoe Penn said higher levels of spending on temporary staff have been "largely driven by staffing gaps in services and pressure to meet demand".
"The proximity of London trusts has resulted in escalating rates between trusts and continuous upward spiral of unsustainable rates for both agency and bank", Ms Penn said.
"All London trusts have now been mandated to standardise bank rates by April 9 2018. The aim is to reinvest savings in frontline services," she added.
A spokesman for London North West University Healthcare Trust, one of the leading providers behind the plan, said in a statement: "We continue to support the objective of an overall reduction in temporary staff expenditure across London."
Medical locum spending has been a national priority for NHS Improvement in recent years. It introduced a nationwide cap on all agency spending, including nursing and medical agency workers, in November 2015.
The regulator has expressed concern that locum spending has not fallen to the same degree as on nursing and other agency staff roles, and continues to see a higher level of breaches.
An NHSI spokesman said the NHS had reduced agency expenditure by "around a third" since it introduced the agency cap system.
He said: "Reduced spending on medical agency shifts has been the biggest portion of the service's total reduction. However, nationally there are still a large proportion of medical shifts paid above their price cap."
However, Stephen Mhiribidi, legal head of locum advocacy group the Independent Health Professionals Association, said locums have taken "massive rate cuts", which is affecting their financial and mental wellbeing.
He said: "It really doesn't make sense to boast about temporary workforce savings when waiting lists are shooting up and hospitals are poorly staffed
"This is having an effect of the substantive employees too, who are under even more intense pressure, leading to more sickness and stress related absence."
Source
Information provided to HSJ