Proportion of NHS staff suffering bullying, harassment or abuse from patients, relatives or the public increased for both white and BME staff, with gap growing slightly
NHS staff survey 2019 showed marginal improvements against other race equality indicators
Follows official WRES report revealing deterioration on "cultural" indicators in 2018
Bullying, harassment and abuse of black and minority ethnic NHS staff by patients increased in 2019 – while other measures of race equality improved slightly – according to the latest NHS staff survey.
The proportion of BME staff reporting that they had experienced "bullying, harassment or abuse from patients, relatives or the public" increased to 30.3 per cent – up from 29.7 per cent in 2019.
The national survey results were published earlier this week.
It also increased slightly from 27.8 per cent to 27.9 per cent for white staff, while the gap between BME and white staff grew from 1.9 to 2.4 percentage points.
Three other staff survey indicators which are used by NHS England to measure the "workforce race equality standard" showed slight improvement in the 2019 survey, with the gap between BME and white staff narrowing – although any progress is marginal over recent years.
Year-on-year change on the four metrics since 2016 is shown in this table: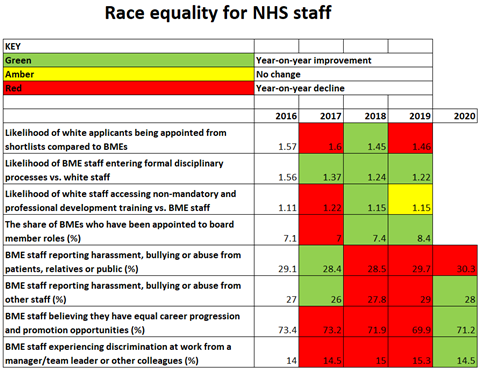 NHSE's most recent official "workforce race equality standard" report — published last week and containing findings from 2019 — showed the percentage of BME board members has grown by 1 per cent — or 35 people — in the past 12 months; but this remains "significantly lower" than the proportion of the BME workforce. It noted that in the 2018 staff survey, "cultural" indicators had worsened.
The NHS Confederation this week launched an independent taskforce aiming to help improve BME representation on boards.
Speaking at the launch, NHS Improvement chair Baroness Dido Harding said: "There's quite a lot of good work happening but we're not moving the dial fast enough…
"It's taken the last five years for me to realise that, actually, if people like us don't drive change [then] change won't happen.
"Those of us who have had those privileged backgrounds, like me, and succeed [in getting into top positions], we have an obligation to make it easier for the generations coming ahead."
Staff survey: Staff experiencing more violence than last year
1

2

Currently reading

Staff survey: Increase in BME staff facing abuse and bullying

3

4

5

6