Almost 15 per cent of staff reported experiencing violence from patients and the public over the last year
Highest levels of violence still reported among ambulance trusts at 34 per cent
BME staff more likely than white staff to experience violence from patients and the public
The proportion of NHS staff experiencing physical violence has risen since last year, prompting a letter from the health secretary urging them to report it.
According to the 2019 edition of the annual survey of staff working in NHS organisations, 14.9 per cent of workers said they had experienced at least one incident of physical violence from patients, their relatives and members of the public.
This is worse than in 2018, when 14.6 per cent of NHS staff said they had experienced violence at work. However, both years were improvements on 2017, when 15.5 per cent of staff reported experiencing violence.
The survey showed ambulance staff are still experiencing the highest levels of violence in the NHS, although this year (34 per cent reported violence) saw an improvement of 0.3 per cent from 2018.
Mental health and learning disability trust staff also experienced a higher-than-average level of violence, which has remained consistently around 20 per cent for the last five years.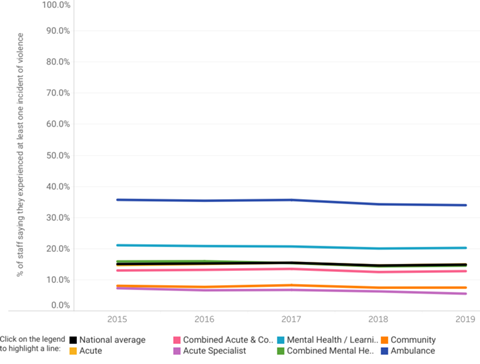 Staff group trends
Black and minority ethnic staff are, overall, more likely to experience violence from patients and the public, with 16.4 per cent of BME workers reporting this, compared with 14.4 per cent of white staff. The figure for BME staff is also half a percentage point higher than in 2018.
BME staff were also more likely to experience violence from other colleagues, with a national average of 2.8 per cent of BME staff compared to 1.2 per cent of white staff.
Meanwhile, mental health and learning disability nursing and healthcare assistants were the staff group most likely to experience violence from patients, with 56 per cent reporting this.
'Far too much violence'
In a letter prompted by the staff survey results, health and social care secretary Matt Hancock said there had been "far too much violence against NHS staff and too much acceptance it is part of the job".
"It is appalling that this happens at all," Mr Hancock said. "Even more so that it happens disproportionately to black and minority ethnic staff."
The health secretary confirmed that from April under NHS England's new Standard Contract rule, NHS services would be able to protect staff by barring from non-emergency care any patient or visitor who inflicts discriminatory or harassing behaviour on staff.
Mr Hancock said the NHS had "joined forces" with the police and the Crown Prosecution Service to approve a joint agreement on offences against emergency workers.
"The joint agreement provides a framework to ensure effective investigation and prosecution of cases where staff are the victim of a crime and sets out the standards victims of these crimes can expect," Mr Hancock said.
He also called for staff to report "every incident and act of abuse against you or a colleague".
Sue Covill, director of development and employment at NHS Employers, said "too many staff report facing violence, bullying and harassment".
"This kind of behaviour is wholly unacceptable and we will continue to work with employers to address it urgently," she added.
Unison assistant general secretary Christina McAnea said: "Violence and harassment have become the new normal for NHS staff, which is beyond unacceptable… Matt Hancock's tough talk is welcome, but it comes many months after he promised to tackle violence. These figures show there's been no noticeable change."
*Amended at 15:45 on 18 February to reflect changes to NHS England's Standard Contract
Other key findings from the staff survey
More than 70 per cent of staff were happy with the support they received from their immediate manager, and this measure has improved consistently over the last five years;
Less than a third of staff agreed there are enough staff at their organisation for them to do their job properly;
More than half of the staff said there were opportunities for flexible working at their organisation;
The percentage of staff who personally experienced bullying and harassment from other colleagues has remained fairly consistent over the last five years at around 20 per cent; and
There was a national decline in the number of staff working unpaid hours by almost two percentage points.
The annual staff survey doesn't include primary care staff or those working in national NHS organisations, such as NHS England or Improvement
Staff survey: Staff experiencing more violence than last year
1

Currently reading

Staff survey: Staff experiencing more violence than last year

2

3

4

5

6