NHS Confederation chair calls for staff to be given fair pay
Stephen Dorrell says pay policy must reflect daily dedication shown by staff
"Pandora's box" of social care funding issues is "open and cannot be closed''
NHS Confederation chair Stephen Dorrell has called for health service staff to be given fair pay to reward their "wonderful professional care".
Opening the annual NHS Confederation conference in Liverpool this morning, Mr Dorrell said there needs to be action on workforce priorities including equality, diversity and pay.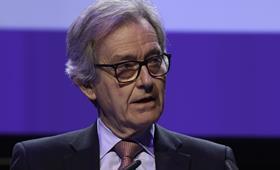 The former health secretary said: "We need to ensure that our staff are fairly rewarded for the commitment they make.
"We all know that financial resources are stretched. But we cannot expect to benefit from the continued commitment of staff if they feel public sector pay policy offers them no reasonable prospect of meeting their private needs and aspirations."
He said healthcare is known as a people business but this must be "more than an incantation. We must mean it."
His comments echo the view of Professor Sir Mike Richards, who told HSJ NHS staff "need to be properly rewarded".
Mr Dorrell paid tribute to staff who helped in the aftermath of the recent terrorist attacks in London and Manchester. He singled out Kirsty Boden, a nurse from Guy's Hospital who was killed as she ran to help wounded people on London Bridge.
He said: "The extraordinary thing about these examples is precisely that they are not extraordinary – they are the daily practice of those who work in the health and care system.
"Their commitment is an inspiration and we should never allow ourselves to take it for granted."
Mr Dorrell also said the general election had highlighted the complexities of social care funding and called for solutions through better integration of care.
Mr Dorrell said: "Pandora's box is open and cannot be closed.
"I well understand the pressures which ministers face; I have the T-shirt. But real life will not wait. Demand pressures are building and it is a key part of the role of the confederation to ensure that uncomfortable facts are understood and acted on.
"None of us can any longer work in isolation. It is time for all of us to smell the coffee and change the way we work."