NHS staff should be paid more to work in unpopular areas of the country to maintain "equitable access" to healthcare, Simon Stevens has said.
It is unclear how such a change could be delivered through the Agenda for Change pay framework but one possibility would be the expansion of higher cost area supplements, which already apply in London.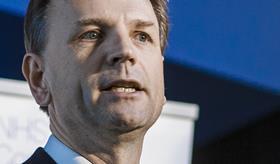 Speaking at the Managers in Partnership summit today, the NHS England chief executive also reiterated the need for any pay increase to be fully funded with new money but he also hinted at changes to the way pay was used to incentivise staff.
Mr Stevens said: "We need to do more to provide our own workforce and I think credit to Jeremy Hunt for the increase in medical school places and the 25 per cent increase in nursing training places.
"But one of the difficult issues we need to grapple with is we need to make sure those staff are working in parts of the country that most need [them]. We have got to have a hard look at the incentives for people to work in Humberside and Lincolnshire and not just in central London."
He said staff should also be incentivised to choose unpopular disciplines such as psychiatry, general practice or mental health nursing.
Mr Stevens added: "This will be controversial stuff, our conventional approach of viewing everyone as the same means the net effect of that is we end up with big distortions in where people are working."
NHS England has already set aside a "fighting fund" to offer GPs up to £20,000 to encourage them to move to areas struggling to recruit.
Mr Stevens said: "I think if we are interested in equitable access to care then we might need to have more differentiation in terms of incentives to work in particular geographies. If we're going to put more money into our overall pay bill we should, as we do that, think about some of those matters as well."
The NHS England chief said he is also gearing up to put pressure on the Treasury by setting out the "consequences" of the choices the government was forcing the NHS to make after "seven years of financial constraint". He did not reveal details and said he would "hold his fire" until next week, which is likely to be at the NHS Providers conference.
He did make clear his view that any rise in pay for NHS staff had to be fully funded – warning that any attempt to make the NHS "offset" a pay rise with further productivity savings would be a mistake.
He said: "Part of what makes the health service so important is the people who work in the health service and frankly we have some big choices coming up over the next year or two on that front. There will be a big choice for government on what to do on public sector pay including pay in the NHS and again as I have said to the health select committee it is very important pay rises for the NHS are properly funded rather than in some sense having to be offset by other parts of what we are doing. That would be an own goal of the first magnitude."