Budget cuts force Health Education England to announce redundancy scheme available for all staff
Cuts also likely to reduce specialty training budgets including for GP training
HEE faces a £70m cost saving in 2016-17 and a "flat cash" settlement until 2020
Cuts to Health Education England's budget have prompted the national training body to launch a redundancy programme open to all staff.
The cost savings programme is also expected to hit the provision of specialty training as HEE's regional arms, which have already been through one restructure in 2014, face having to make more cuts.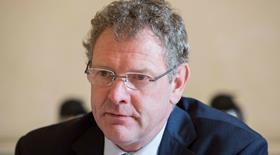 Internal emails and documents seen by HSJ reveal cuts of up to 20 per cent in GP education costs are being sought in the South West, with staff asked to identify overall savings of between 15 and 30 per cent in coming weeks.
The cuts are a consequence of the 2015 autumn statement, which redefined the health spending ringfence to exclude arm's length bodies like HEE.
The £5bn education and training organisation needs to save £70m in 2016-17 and faces a "flat cash" settlement up to 2020, at a time of growing demand for staff training from newly qualified staff and the existing workforce.
In a letter to HEE staff, Unison national officer Nick Bradley said: "We are gravely disappointed that these cuts in the running costs of HEE are required. We understand they arise from decisions of this government in the last spending review, which required big reductions in running costs from the bodies funded by the DH.
"We are concerned about the impact on all staff as well as on the ability of HEE to deliver excellent services to the NHS."
Cuts to GP training could be particularly sensitive as NHS England and the government have highlighted workforce shortages in primary care, and the government has a target to increase the number of GPs by 5,000 by 2020.
In one message seen by HSJ, staff at HEE South West were told: "One of the organisation's most expensive costs is GP educator sessions and these will be included in the programme of savings.
"It is therefore important that a dialogue is started within your teams as soon as possible, about how you might run your programmes for less. We would ask that you produce a paper outlining how your team can save 15 per cent and 30 per cent costs savings. Within these savings we would ask that you identify 10 and 20 per cent savings in GP educator costs."
One HEE employee reacting to the news told HSJ: "Understandably my colleagues are shocked and appalled. At a time when we are supposed to be increasing GP training numbers these changes do seem to be counterintuitive… They will definitely affect the quality of GP training and by extension the quality of GPs finishing their training.
"I have no doubt that there will be similar stories from other specialties. However, GP training is very different to other specialties and I think these changes will be disastrous."
In a letter to all staff, HEE finance director Steve Clarke said: "The [redundancy] scheme is being offered prior to full consultation with employees and trade unions on the proposed cost reductions.
"The objective is to allow HEE to realise some cost reductions at the very start of the new financial year [2017-18] and it also potentially creates greater opportunities for other staff as we progress to new structures and reduce, as we have always said we would, the need for compulsory redundancies."
Professor Ian Cumming, HEE chief executive, said: "HEE faces the requirement to reduce the amount of money we spend on running the organisation to reflect both the reduction in our administration budget over the coming period and the need to free up resources to reinvest in our priorities as an organisation, which includes primary care.
"HEE and our trade union partners are committed to avoiding compulsory redundancies wherever possible. We are committed to using a voluntary approach. It therefore makes sense to run this scheme now, as all of the savings that accrue will in turn reduce the total amount required from the wider changes currently being planned for the 2017-18 financial year.
"The scheme is open to all staff currently employed by HEE."
Applications for redundancy close on 6 March.