Andrew Foster warns short staffing is serious risk to NHS patient safety
Without action, NHS will 'lurch from crisis to crisis and people will be dying'
Scenario reminiscent of what hospital leaders faced in the 1990s
A veteran NHS chief executive and former director general of workforce at the Department of Health has warned patients could die due to unsafe staffing levels unless action is taken on a national scale.
Andrew Foster, chief executive of Wrightington, Wigan and Leigh Foundation Trust, told HSJ the extent of short staffing in the NHS was a serious risk to safety and was reminiscent of the challenges the country faced after the mid 1990s.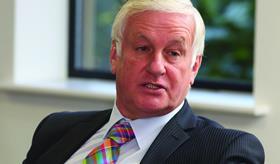 Mr Foster led the DH's work responding to these problems and said a new national workforce strategy and investment was essential to maintain safe services.
Health secretary Jeremy Hunt is expected to reveal plans for a national workforce strategy at the NHS Providers conference today.
Mr Foster, who was appointed as chief executive at WWL in 2007, said after 2000 the NHS increased its workforce by hundreds of thousands at a cost of £12bn. He added: "If we did even half of that and increased the workforce by 15 per cent that would be well on the way to creating a safe and sustainable healthcare system.
"The alternative is not doing that and then we will be lurching from crisis to crisis and people will be dying due to a lack of safe staffing levels.
"There needs to be one overall workforce strategy, which includes the hard things like numbers of staff but also the softer side of things like how we, as employers, act. It has been done before, we can do it again."
He said the situation facing trust chief executives now was a real concern and echoed what happened 20 years ago. Then, after a long period of low investment and cuts to nurse numbers, the government announced substantial investment in workforce as part of the NHS Plan and developed local workforce boards and infrastructure to help deliver the pledges.
Mr Foster said the result was a major focus on expanding the workforce and looking at a range of issues such as retirement, international recruitment and pay and contract reform. The plan promised an extra 10,000 doctors, 20,000 nurses and 6,500 therapists.
He added: "We have been where we are now and we did things that worked. Obviously, it needs resource to be done, but the point is that it can be done.
"What I am seeing at the moment is staff working harder and long over the hours they are paid for. I see staff leaving who have had enough."