Senior NHS leaders for organisations across the service have sought to reassure employees in the wake of the vote for the UK to leave the EU, and have restated their policies for zero tolerance towards racist abuse.
It comes amid reports around the country of an increase in incidents of abuse since last week's referendum, and uncertainty over the long term status of EU nationals living in Britain.
Last week HSJ launched a new award to recognise the contribution of EU staff to the service.
'We could not run this hospital without staff from outside the UK'
A statement by University Hospitals Southampton Foundation Trust on Wednesday said: "We could not run this hospital without staff from outside the UK, including the EU and the rest of the world… We would like to thank all of these staff for their major contribution to the care of our patients.
"We would like to take this opportunity to reiterate our policy of zero tolerance of any form of racism or abuse.
"We will work actively with partners both locally and nationally to ensure that the contribution of staff originating outside of the UK is recognised and that they are nationally reassured that they will continue to be needed and valued here."
'We will not tolerate any abuse of our staff'
Dame Julie Moore, chief executive of both University Hospitals Birmingham and Heart of England foundation trusts tweeted: "Never thought in this day [and] age this would be necessary", before posting a link to her statement to staff.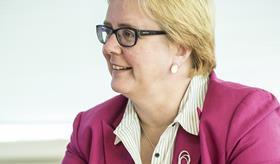 Dame Julie's statement to UHB on Monday said: "This past week has been momentous politically for our nation. Unfortunately it has been characterised by a campaign that has, at times, been bitter, divisive and sometimes led to ill feelings between friends, families and colleagues. As we are all aware, the NHS featured prominently in the campaign…
"Healthcare can only be delivered by excellent teamwork and I am pleased to see that every day in the teams working here. These teams reflect our diverse local community and the diversity of our patients, and are made up of staff from all walks of life, race, beliefs and sexuality. Each member of staff at this hospital is equally valued as an essential part of the team that delivers such excellent healthcare…
"One of our values is 'respect'; respect for patients, respect for visitors and respect for each other. That respect works both ways – our staff must be respected for the job they do, the skills and knowledge they bring to caring for patients. They have the right to expect to be treated with respect and courtesy by patients, visitors and members of the public.
"There have been some disturbing reports from elsewhere in the NHS of staff facing racist abuse. We value every member of our staff and will seek to protect and support them in all aspects of their work. As an organisation we will not tolerate any abuse of our staff and will seek to take action where appropriate."
'A truly international organisation'
Sir Robert Naylor, chief executive of University College London Hospitals FT, on Tuesday said: "The NHS has been a key part of the debate over Europe and discussions about how the decision will affect us are likely to continue for some time. The future may be uncertain, but what we do know is that UCLH is a truly international organisation.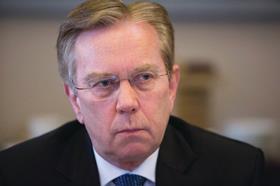 "Our exceptional workforce is made up of colleagues from all corners of the globe – many have joined us recently following international recruitment drives. We also have close partnerships with countless international academic and research organisations. We are all united in one aspiration – to provide care of the highest quality, using the latest available research, and to save lives and improve outcomes.
"We would like to support staff who may be worried about their future and will be setting up sessions for you. In the meantime, please speak to your line manager or head of nursing.
"Our success, and future aspirations to be a world leading centre of excellence for health and research rely on these partnerships and on you, our staff."
'Take time to think about your colleagues'
Tony Campbell, acting chief executive of Chesterfield Royal Hospital FT, said: "Whatever your political beliefs though please take time to think about colleagues who have taken a brave and enormous step to support us here at Chesterfield Royal Hospital.
"We have many colleagues from across the globe working with us to provide our patients with the best possible care. Some have only recently left their homes in Europe and are understandably feeling anxious about 'what happens next'. Whilst we may not be able to answer that specific question at the moment we can make sure they feel part of our Royal Hospital 'community'.
"Exceptional patient care depends on staff who feel appreciated and valued. I would like to take this opportunity to thank each and every one of you for your commitment and dedication to this goal – and in particular thank those who have left family and friends behind at home to join us in Derbyshire. We hope you have been made to feel welcome and we will continue to do all we can to help you settle in on the wards, in your residences and in a new country."
'A cause for celebration and pride'
In a joint statement chief executive Kevin McGee and chair Eileen Fairhurst of East Lancashire Teaching Hospitals Trust said: "You should be assured of our ongoing appreciation of everything you do, and our thanks for your professionalism, success and achievements.
"We greatly value all our staff, regardless of their nationality, race or religion – indeed – regardless of any characteristic. The ethnic and cultural diversity that you all bring, from across Europe and from further afield, greatly enhances the trust and is a cause for celebration and pride."
No certainty from Cameron
However, as NHS leaders have sought to reassure staff, the prime minister has admitted that the future status of workers from the EU is not guaranteed. In Parliament on Wednesday he said although EU citizens' contribution to the economy was welcomed, the government cannot offer any guarantees now because negotiations have not taken place.
Trust chiefs declare support for 'brave' EU staff following Brexit vote
1

Currently reading

Trust chiefs declare support for 'brave' EU staff following Brexit vote

2

3