Jim Mackey says agency spending crackdown must continue
Letter to providers says monthly bank spending is more than agency costs for the first time
NHS Improvement wants to help trusts develop regional banks and prepare A&Es for a "tough winter"
Agency spending in the NHS is still "unsustainable" and trusts must "go further" in cutting costs, NHS Improvement has said.
In a letter to provider chief executives, NHSI chief executive Jim Mackey said trusts need to "redouble" their efforts in applying price caps and only sourcing agency staff from approved suppliers.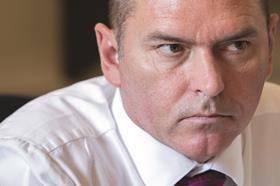 He praised efforts during the past year, which he said led to the NHS reducing agency costs by £700m compared to 2015-16.
He also highlighted that for the first time, agency spend in the NHS was now less than spending on in-house bank staff – suggesting the agency spending caps have encouraged some temporary staff to shift to bank working.
In his letter, sent this week, Mr Mackey told NHS leaders they had more to do.
He said: "Despite this progress, I'm sure that we all recognise that spending on agency staff is still at an unsustainable level, both from a quality and economic viewpoint, and much is still to be done to reduce spend to a more normal level.
"One of the keys to reducing agency spend further in 2017-18 is to go further in applying the mechanisms that have brought savings in the last year. There are still far too many price cap breaches and use of off-framework agencies. The sector therefore needs to redouble its efforts in applying price caps and using approved frameworks to procure agency staff, with the only exception to this approach being where there is an identified safety risk."
Mr Mackey added: "Also, for the first time since the agency controls began, monthly agency spend is now less than bank spend, which is a great achievement. At executive [very senior manager] level, we have also significantly reduced the number of individuals being paid on a day rate basis since the VSM policy was introduced in October 2016."
Mr Mackey said trust chiefs needed to keep their grip on agency shifts costing more than £120 an hour but he welcomed "progress" on rostering, job planning and faster turnaround on vacancies.
However, he added: "There is still further to go in terms of ensuring consistency of application and many trusts are yet to realise the full potential of what can be achieved here, and we will look to support providers further in order to realise more gains in these areas."
He said trusts must "not accept increases in locum costs beyond current levels".
Ahead of winter, Mr Mackey accepted emergency departments faced workforce challenges and said: "We are keen to proactively support providers to prepare for what will be a tough winter.
"Part of this work will focus on the use of agency and locum staff in this area – we want to help providers create working environments that encourage substantive working within A&E departments, but that still have the ability to respond to short-term fluctuations in demand."