NHS Improvement chief executive Jim Mackey says NHSI will demand evidence on workforce changes
Regulator will develop a "safeguard" to prevent nursing associates substituting for qualified nurses
Ruth May confirms nursing associates will also be counted separately to nurses in care hours metric
Health economies and NHS providers' plans for major workforce changes will be subject to NHS Improvement checks on safety, its chief executive has said.
Jim Mackey told HSJ, in an exclusive interview, in relation to sustainability and transformation plans: "I want some basic assurance and I want to see evidence that what they are planning to do at the end of it is better than what they are doing now. We should be kicking the tyres – that is part of our job."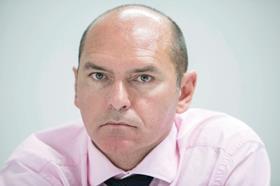 His comments follow pressure on trusts to contain the pay bill, and the publication of some STPs, such as Buckingham, Oxfordshire and Berkshire West, and Nottinghamshire, which envisage the "reduction of nursing grade input" and more use of "generic support workers".
Mr Mackey, in his first major interview on workforce, said: "We are having a bit of a regroup on STPs and when we go back in January there will absolutely be conversations to say, 'show me how this works.'"
He said workforce was not prominent enough in many STPs. More so than finances and emergency department performance, staffing was "the thing that really keeps [NHS leaders] awake at night", therefore "let's put it centre stage", he said.
He also said NHS Improvement would check the safety implications of significant workforce changes being made by individual providers.
"There needs to be a kind of safety [check] on let's not cross any de minimus standards," he said. "I am the accounting officer for NHS trusts, I am responsible for the safety in a lot of these places."
These checks and interventions would be tailored to providers, Mr Mackey said. "If they're a fantastically performing organisation who gets it right every time that will be quite a light conversation because we will be able to trust them, but if they're an organisation that has got lots of others problems we will be much more involved."
He said: "It's the board's local choice and decision [to set their staffing] but if it's something new, out of the ordinary, against the standard [that they are proposing], we would expect to have a conversation about that."
Meanwhile, he indicated that comments he made to HSJ in the summer – when he said some providers had been wrong to go beyond the ratio of one nurse to every eight patients and appeared to call into question the evidence for ratios – were incorrect. "There is evidence for that absolutely; I might have said that slightly wrong," he added.
He said NHS Improvement's job was to make sure staffing was "optimised, but that we don't cross the line" of becoming unsafe. The regulator would "provide a floor that people can't go beneath… because the evidence is they haven't always got that right".
HSJ asked Mr Mackey about NHS Improvement's publication in the summer of a list of 63 trusts that had seen significant increases in their pay bill in previous years. He said NHS Improvement had "lots of arguments with other colleagues about" how this should be done, though declined to say who. He said: "I was pushed a bit hard that this should just be formulaic and they should just take the money out, but we were very clear and we held the line [that it should be more nuanced]."
He said some trusts had found ways to save money but asking them to reduce substantive staff numbers had "never been any part of what we've been saying".
Mr Mackey also said NHS Improvement would take steps to protect registered nurse staffing levels alongside the introducion of nursing associates – a new post between healthcare assistants and registered nurses.
He said: "Ruth [May, NHSI's director of nursing] and colleagues are working on a safeguard that makes sure there isn't a dilution, so that this isn't interpreted that you can get away with a cheaper, less skilled workforce."
NHSI needed "to be a safeguard in this process", he said. "This is all about increasing the amount of clinical resource devoted to patients rather than diluting it."
On social media today Ruth May confirmed that nursing associates would be counted separately from registered nurses in the care hours metric. This would mean three separate categories for healthcare assisstants, nursing associates and registered nurses.
This story was updated at 10am to reflect information from Ruth May on nursing associates.
Exclusive: Trusts will not be 'intimidated or bullied', says Mackey
1

2

3

Currently reading

Trusts with dangerous staffing levels face NHS Improvement intervention