A pathology service that has lost its accreditation is having to recruit extra staff amid concerns that patient care could be affected by an unsustainable workload.
Frontier Pathology NHS Partnership, a joint venture between Surrey and Sussex Healthcare Trust and Brighton and Sussex University Hospitals Trust, had its accreditation suspended by the UK Accreditation Service in November. Accreditation with UKAS is voluntary.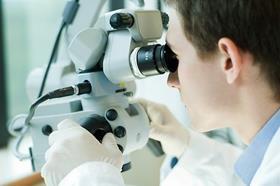 SASH's board papers for February reveal that one part-time and five full-time pathologists have been doing the work of seven full-time staff. This could put patients at "significant" risk of harm, the trust's risk register said.
Bruce Stewart, clinical director of the partnership, told HSJ: "The cellular pathology service at East Surrey Hospital was assessed by UKAS, which felt that the demand on the service, which has seen a 20 per cent increase in the last four years, was having an impact on the turnaround times in the laboratory."
SASH declined to say exactly how the turnaround times in the laboratory were being affected.
However, the board papers reveal the trust is prioritising "recruitment to outstanding posts and the improvement of turnaround times".
The papers said SASH medical director Des Holden "acknowledged that the workload is not sustainable without additional recruitment".
"Dr Holden emphasised that the trust is not concerned about the quality of interpretation. The issue is of volume of work and turnaround times," the papers added.
The February risk register said there was a "risk of significant patient harm due to an increase in diagnostic errors related to sustained increase in workload", while staff were at risk of ill health due to stress.
Cancer cases were being prioritised "to deliver KPIs", but this was increasing the risk of "significant findings being delayed or missed in lower priority cases", the register said.
Board papers said the trust was investigating whether it was "experiencing excessive diagnostic errors" due to the volume of work and staff shortages.
Dr Holden said where it is possible to benchmark performance, "the quality of interpretation is good".
Frontier Pathology NHS Partnership was set up in April 2015 in response to the national quality, innovation, productivity and prevention programme, which set an expectation that trusts consolidate pathology services, as recommended by Lord Carter's review.
Dr Stewart said: "The increased demand on pathology services is reflected across the country."
HSJ understands that two additional consultant pathologists and four laboratory staff will be recruited.
Dr Stewart said: "We aim to meet the Royal College of Pathologists' guideline standards for all work processed. We are focused on improving the performance and overall turnaround times for histology and anticipate that the additional staff will rectify this."
He said the service has already submitted evidence for reaccreditation.