Royal College of Nursing balks at explicit link of pay rise to productivity increase
General secretary says "nurses should not be expected to fund their own pay rise"
Jeremy Hunt letter signals formal start of pay negotiations
The Royal College of Nursing today said it had "concern" over the link between productivity and pay increases in a letter sent by Jeremy Hunt formally beginning pay negotiations for 2018-19.
The Department of Health published a letter from the health secretary to the chair of the NHS Pay Review Body that said: "Any agreed deal would need to give valued staff a fair pay rise alongside improving recruitment and retention and developing reforms which better reflect modern working practices, service needs and fairness for employees."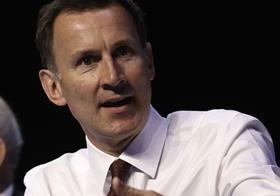 It said the government was taking "a more flexible approach to public sector pay" but this was "in return for improvements to public sector productivity."
The RCN chief executive and general secretary Janet Davies took issue with the link between productivity and pay, saying "nursing staff cannot be stretched any further. The NHS would grind to a halt without all the extra hours they already work.
"Nurses should not be expected in effect to fund their own pay rise. A fair pay rise is vital not just for nursing staff, but for patients and the NHS as a whole."
She said the RCN would engage with the process but "nursing staff cannot continue to put up with the year on year erosion in pay they've endured for the last few years".
In an HSJ interview last month, Mr Hunt said he wanted to achieve a "more professional pay structure" in line with government policy on public sector pay generally.
This is likely to include reform of the increment pay structure within the Agenda for Change framework as well as enhancements for the time staff spend working at weekends and on nightshifts.
Mr Hunt said in the interview: "I think the biggest area that we have wanted to reform for a long time is the system of increments – in particular, payments that simply relate to time served rather than any measurable increase in professional abilities.
"We have no desire to reduce the total amount paid to the NHS workforce by any such reforms. This isn't a money saving thing but about moving to modern professional pay structures.
"We are still going to have premiums for antisocial hour payments. Funnily enough, the model that we ended up agreeing with the British Medical Association for the junior doctors' contract is quite a sensible one, which is essentially higher pay for the more weekends you work. We recognise that."
In the budget statement last month, chancellor Philip Hammond said he would set aside money to increase pay for 1 million NHS staff.
He said: "The health secretary has already begun discussions with health unions on pay structure modernisation for Agenda for Change staff to improve recruitment and retention. He will submit evidence to the independent pay review body in due course."