BMA argues the recruitment crisis can only be addressed through remuneration across the board
It also urges the DDRB to "reassert independence"
Simon Stevens has said people should be paid more to work in less popular areas
The British Medical Association has rejected calls by the chief of NHS England, Simon Stevens, that NHS doctors should be paid more to work in unpopular areas of the country.
In its evidence to the Review Body on Doctors' and Dentists' Remuneration, submitted last month, the union said it does not support targeted pay recommendations to address location or specialty recruitment issues.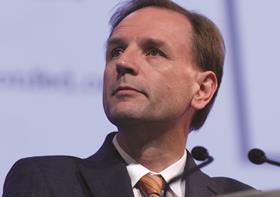 "We do not want the DDRB to consider developing a new mechanism for enabling targeted pay solutions," the BMA said.
It stressed that the NHS's recruitment crisis can only be addressed through "comprehensive workforce planning [and] appropriate remuneration across the board".
The BMA said: "In times of generally declining morale, it is important that all doctors are valued equally."
Last autumn, Mr Stevens suggested staff should be paid more to work in less popular parts of the country and incentivised to choose unpopular disciplines, such as psychiatry or general practice.
"We have got to have a hard look at the incentives for people to work in Humberside and Lincolnshire and not just in central London," Mr Stevens said.
The BMA also expressed concern around the DDRB's ability to "service its original purpose" and it "urges the DDRB to reassert its independence and not be constrained by the government's continuing reluctance to properly fund the NHS".
"It is vital that the DDRB's recommendations are made on the basis of the evidence considered, otherwise the confidence of the profession in the process may be irrevocably broken," it added
The union asked the DDRB to recommend an uplift in the pay of all doctors across the UK in line with inflation plus £800 or 2 per cent – "whichever is greater".
It argued doctors' capped pay awards at 1 per cent were "about 60 percent less than in the wider economy".
"We were extremely disappointed by the DDRB's decision to recommend again an uplift in line with the public sector pay policies, even though the report recognised that there was a 'diminishing case' for limiting pay awards at 1 per cent," it said.
Last month, reform to clinical excellence awards was announced as part of a deal agreed between NHS Employers and the BMA.
In its evidence, the BMA stressed it has been exploring a deal in which existing CEA holders will be able to keep the awards they have already earned and the local awards round would continue to run.
"Alongside this we are working with our negotiating partners to develop a successor awards scheme, which continues to encourage and fairly reward excellence across a number of domains," it said.