Dame Eileen Sills appointed national guardian for NHS whistleblowers
National guardian a key recommendation of Sir Robert Francis' whistleblowing review
Dame Eileen will carry out role two days a week while continuing to work as chief nurse of Guy's and St Thomas' Foundation Trust
Dame Eileen Sills, the chief nurse at Guy's and St Thomas' Foundation Trust, has been appointed by the Care Quality Commission as the first national guardian for NHS whistleblowers.
She will carry out the role two days a week while remaining chief nurse at the London trust.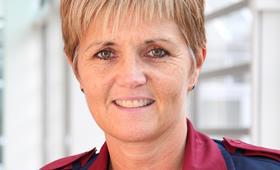 The "national guardian for the freedom to speak up" was a key recommendation of Sir Robert Francis' review into the treatment of NHS whistleblowers.
Dame Eileen will have four key duties:
providing support and advice to local whistleblower guardians based in NHS trusts;
supporting the system by sharing good practice and reporting on common themes;
advising trusts; and
advising staff raising concerns.
However, the role is not responsible for investigating individual whistleblowers' concerns. It also lacks statutory powers, meaning that while Dame Eileen will be able to highlight cases where whistleblowers have not been properly treated and suggest remedies, she will not have the power to make trusts comply with them.
The post will be hosted by the CQC. The regulator has pledged to protect the role's independence, and has said the guardian will have the freedom to criticise the CQC "if they feel it is necessary".
Dame Eileen has been chief nurse at Guy's and St Thomas' since 2005, and has been a registered nurse for 30 years.
The CQC told HSJ that she has been seconded to the post of national guardian for two days a week from Guy's and St Thomas', which remains her employer. The regulator will reimburse the London trust £56,800 per annum for the secondment, which will last for three years.
The CQC said Dame Eileen would step down as Guy's and St Thomas' whistleblowing lead "to prevent any conflict of interests". She is also stepping down as senior nurse adviser for the Nursing and Midwifery Council and as chair of the Shelford nursing group of chief nurses.
Dame Eileen said: "I understand what it is like to provide care on the frontline. I also understand how difficult it is for staff always to have the confidence and courage to speak out.
"I fully appreciate that this is a very big and challenging role, but with the support of the staff who work in the NHS, I have no doubt that we can make the changes together that are needed to deliver a new culture of transparency and openness."
Health secretary Jeremy Hunt said Dame Eileen had "dedicated her career to improving the quality of care patients receive".
"I am confident as the national guardian she will inspire the NHS to go even further in improving how staff can raise concerns without fear or discrimination," he added.
Updated 06/01/2016 5.06pm with information about the terms of Dame Eileen's secondment