Public Concern at Work says Court of Appeal case extends whistleblower protections across the workforce
Charity intervened in junior doctor's case that ended last week
Health Education England could be properly deemed an employer, judges said
A decision by the Court of Appeal to introduce a new interpretation of employment law in a junior doctor's case has extended whistleblower protection across the workforce, a charity has said.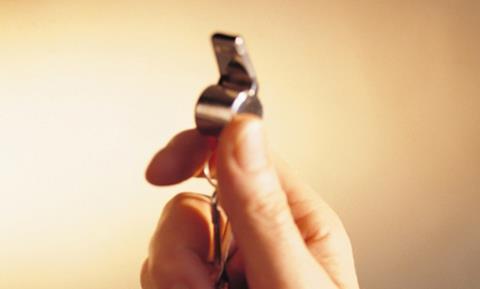 Public Concern at Work has welcomed the decision by judges last Friday that Health Education England could properly be considered an employer.
The charity had intervened in the legal action as a third party, alongside junior doctor Chris Day, to seek clarity over the law surrounding third party organisations who introduce workers to their employers.
Last week, Dr Day won his legal battle with HEE after judges ruled the education and training body could be considered an employer and be pursued for victimisation of whistleblowers through the employment tribunal process.
A tribunal ruled last year that employment law did not apply to HEE and Parliament had excluded it from legislation.
PCW chief executive Cathy James said Friday's decision was "an amazing achievement" and "a major positive shift in the protection afforded to whistleblowers across all industries. We have always said that effective protection for whistleblowers will result in more concerns about wrongdoing, risk or malpractice being effectively raised and ultimately a safer, better and fairer society. Dr Day's victory is a victory for all of us."
She said the charity was concerned by the earlier rulings, which if they had been upheld would have meant significantly compromising whistleblower protections.
"It was for this reason that we decided to intervene in the Court of Appeal and we are pleased that our submissions proved valuable to the court," she said.
Ms James added: "The judgment makes crystal clear that action against a whistleblower can sometimes take place by those outside the primary employment relationship and that outside bodies can have a huge influence over the terms of any worker's employment. This goes beyond the specific terms of the employment contract.
"Taking this new principled approach to the law, the Employment Tribunal can now go on to consider the exact nature of Dr Day's relationship with HEE and the circumstances that followed his raising of patient safety concerns in Queen Elizabeth Hospital."
HEE and Lewisham and Greenwich Trust both deny any wrongdoing in relation to Dr Day's specific allegations. The details of his case have yet to be tested by a tribunal.
The court ordered his case to be reconsidered by the tribunal process, which will decide whether HEE substantially determined Dr Day's terms and conditions and as such can be included in his unfair dismissal case.