Women leaders in the NHS are being offered customised internships outside the health service to boost their skills and launch them into executive director roles.
NHS Improvement has urged senior women leaders to apply for the internships, which it has launched to mark the departure of chair Ed Smith, who has pushed the NHS to do more to tackle gender inequality.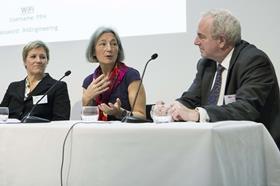 The regulator said it was offering two six month placements in a non-NHS industry in partnership with The Whitehall and Industry Group. Trusts will be paid the salary of the successful applicant while they are on their placement.
NHS trusts have been urged by NHSI to ensure 50 per cent of senior board positions are filled by women by 2020, to promote gender equality in the health service.
NHS Employers, which supports the moves to improve equality, said 77 per cent of the NHS workforce are women but men take the majority of very senior manager posts.
As part of the internships, The Whitehall and Industry Group will identify an intern's strengths and personal development objectives and match them with a non-NHS organisation. The host will provide a customised, senior role that maximises the use of the intern's skills and expertise, and allows them to develop transferable skills they can bring back to the NHS.
Women are eligible to apply if they are working as a senior leader directly below board level. They will need the support of their organisation before applying for the internships, which will start in 2018-19.
Jim Mackey, chief executive of NHSI, said there was "still a long way to go to create a level playing field" but added the internships were "great opportunities for women with the potential to take on executive director roles in the near future, to extend their networks and enjoy the exposure to a different culture and organisational methods".
He added: "These awards celebrate Ed's tireless work to improve diversity in the NHS, which includes the need for women to be given an equal and fair chance to reach the most senior leadership positions. Ed demonstrated his commitment to this cause in all his work with NHS Improvement, and specifically by championing the '50:50 by 2020' initiative and his backing for the Health and Care Women Leaders Network."
Mr Smith retired in July and Baroness Harding was revealed as the new chair of NHSI yesterday.
Women NHS leaders offered industry internships to help 'create level playing field'
1

Currently reading

Women NHS leaders offered industry internships to help 'create level playing field'

2