NHSI 2016 staff survey released under FOI
Poor results attributed to impact of Monitor/Trust Development Authority merger
42 per cent of staff recommended NHSI as an employer
32 per cent agreed senior leaders provide a clear vision
The negative impact of continued organisational change on employees at NHS Improvement has been revealed in damning staff survey results obtained by HSJ.
Results from the regulator's 2016 survey, conducted last November, show NHSI performed poorly compared with other NHS bodies on many measures.
The organisation attributed the results, which suggest poor communication within the organisation and low morale among stuff, to the merger between Monitor and the NHS Trust Development Authority.
The results show:
Thirty-two per cent of NHSI staff agreed senior leaders provide a clear vision of the overall direction of the organisation.
Eighteen per cent said communications were good between different teams – whereas two-thirds of NHS England staff said there was "good cooperation" within the organisation.
Thirty-six per cent would still like to be working at NHSI in two years.
Thirty-two per cent said NHSI ensures everyone is treated fairly and equally.
Forty-seven per cent of staff felt valued and recognised for their work – compared with 58 per cent in the Department of Health.
Forty-eight per cent said they were proud to work for NHSI, compared with 79 per cent at the Care Quality Commission and 67 per cent at NHS England.
Forty-two per cent of NHSI staff would recommend the organisation as an employer, compared to 58 at NHS England and 61 per cent at the CQC.
The NHSI survey was sent to HSJ under the Freedom of Information Act in June. However, it has not been published until now because HSJ has been a protracted battle with NHS England to release its results to enable comparison between the two.
NHSI's survey is unique, however some questions are found in the wider NHS staff survey, while others are taken from the civil service's equivalent.
NHSI's results were not published, unlike those of the wider NHS, the CQC and the DH.
Unlike other NHS staff surveys, NHSI's includes a set of questions about mental health and wellbeing. Less than half of employees agreed with the statements "I don't spend a lot of time worrying about things that have happened", and "I don't often feel stressed out or tense", while only 55 per cent said they did not have any difficulty sleeping.
This year the regulator launched self-help guides for staff. It also runs a programme of training for mental health first aiders.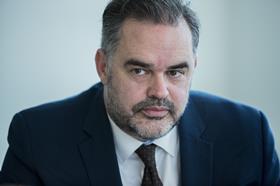 NHSI's results are only trumped by the DH's. The department was undergoing a redundancy and restructuring programme at the time. Only 24 per cent of DH staff would recommend it as a place to work, and just 41 per cent said they were proud to work for the department. Twenty-two per cent of DH staff said senior leaders had a clear vision for the future.
Managers in Partnership chief executive Jon Restell said: "Some aspects of staff experience are worrying. NHSI has continually changed roles and structures, which breeds uncertainty.
Unison's head of health Sara Gorton said: "All parts of the NHS are feeling the strain. No matter where in the health service staff work, they're juggling limited resources, and attempting to do more with less.
"It's no wonder many NHS staff feel like they want to work somewhere else. Poor morale, overworked and stressed out employees are to be found in all hospitals, clinics and ambulance stations, and in the health service's leadership bodies too. Ministers should be hanging their heads in shame. It's their failure to fund the NHS properly at a time of rising demand that is to blame."
"Frequent changes of senior management also hamper progress. There is good work by senior management on tackling problems, but it is also hard to get consistency across regions and teams in large national organisations."
An NHSI spokesman said: "NHS Improvement was formed out of separate organisations and teams, each with their own cultures and ways of working, and the process of bringing them together is challenging. These results show the impact that this change was having on staff at the time.
"We have worked hard to bring our teams together and we are totally committed to listening to our staff, learning and improving so the concerns raised will be taken seriously and addressed."
Exclusive: NHS England leaders' decisions not 'consistent with values'
1

2

Currently reading

'Worrying' staff survey reveals impact of NHS Improvement merger on morale