Primary care trusts have set out their stall as support agencies for GP consortia by significantly improving their performance against the standards and competencies assessed in the second - and last ever - world class commissioning assurance test.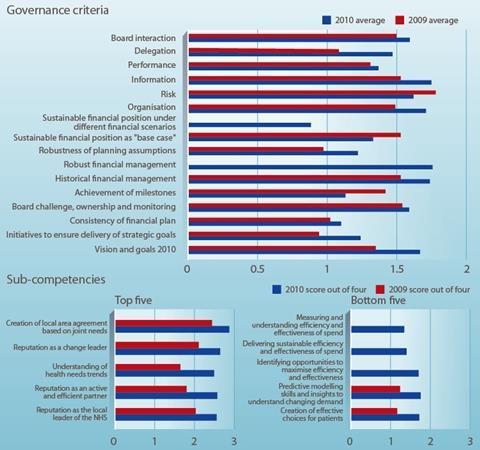 World class commissioning: PCTs raise the bar in final assurance test
HSJ has collected individual PCT results for each of the 49 separate indicators in the 2010 world class commissioning assessment process.
GP consortia need to think very carefully about the support they are going to have
They show PCTs improved on all 30 of the individual competency tests they were assessed on this year and last year, with an average 42 per cent increase in scores.
PCTs also improved their governance processes in 11 out of 14 of the standards assessed this year and last, although their scores dropped in standards relating to risk management, financial stability and meeting previously set goals.
HSJ has collated the full results of the 144 PCTs that published their results by the end of July. These have been used to update the HSJ world class commissioning league table published last year.
The table ranks PCTs first on their governance scores and then by their competency scores. The highest ranking is NHS Hull, which moved up from 48 in last year's rank. Second and third places go to Salford and Tower Hamlets.
The lowest ranking PCTs are Peterborough, North Yorkshire and York and Barnet - which moved down from 62.
There has been some debate about the use of world class commissioning scores to rank the quality of PCTs.
PCT governance arrangements are assessed in three broad areas: strategy, finance and board, with 16 sub-components in all. In each of these PCTs are graded red, amber or green. NHS Sheffield chief executive Jan Sobieraj said all PCTs should be able to receive a green in all three categories as this was more vital than performance in the separately assessed 33 competencies, which are scored one to four.
That was the method used in this year's and last year's HSJ league table, which placed Mr Sobieraj's PCT in fourth place for 2010.
But others argue for an alternative method giving each of the 49 components equal weight. The league table based on that methodology is also published today at hsj.co.uk/wcc and moves Tower Hamlets PCT up from third position to top and Sheffield from fourth to second.
The bottom two PCTs are the same under both methods.
Despite the improvement overall, a Department of Health spokeswoman said the 2010 results showed progress had been "slow and inconsistent, particularly given the need to respond to the financial challenges facing the NHS". She confirmed this year had seen the last world class commissioning assurance test, as PCTs are due to be abolished from April 2013.
But King's Fund senior researcher Chris Naylor said the assurance framework had been successful in giving PCTs "a sense of where they are going".
He said despite plans to abolish PCTs, "we mustn't lose the clarity of what world class commissioning has given us in terms of knowing what good commissioning looks like".
High performing PCT chiefs told HSJ the 2010 results also showed GP consortia should think twice before looking outside the NHS for commissioning support.
NHS Hull chief executive Chris Long said: "GP consortia need to think very, very carefully about the support they are going to have around commissioning. They need to think twice before they look outside [for] support."
NHS Tower Hamlets acting chief executive Andrew Ridley said he expected GPs to build on the successful commissioning arrangements in his borough rather than start again.
He said: "The consortia arrangements are for GPs to determine but we would expect GPs to want to build on the experience of the best commissioning agencies."
He said as a top performer Tower Hamlets had begun transferring hard budgets to GP commissioning groups.
However NHS Cumbria, which fell from fourth to 51st place, said its fall had been due to a conscious decision to concentrate on GP commissioning.
A spokesman said: "Our number one priority over the last 12 months has been getting Cumbria's six GP consortia ready to hit the ground running with hard budgets from April 2010.
"It would be fair to say that this has meant the world class commissioning process has not been our driving aim."
NHS Barnet chief executive Cameron Ward said the PCT was "disappointed" with the results, which he put down to it needing to focus on reducing its deficit and having only recently changed chief executives at the time it was assessed.
The results show there is no relationship between PCT quality and either their population size or expenditure on management costs. That finding comes amid concern GP consortia could be too small to be strong commissioners. But Mr Naylor of the King's Fund said the prime concern was not economies of scale but rather the ability to ensure against the risk of high cost patients.
World class commissioning: this ridiculed plan might just be working
1

2

3

4

5

Currently reading

World class commissioning: PCTs raise the bar in final assurance test