Local MP claims Wye Valley Trust to be taken over by South Warwickshire FT
Trade minister Jesse Norman criticises NHS Improvement for encouraging takeover without consultation
Wye Valley chief executive and chair likely to be replaced
New CQC inspection report likely to be published next week
A government minister has claimed his local hospital trust is about to be taken over, and accused NHS Improvement of arranging the deal without properly consulting patients or staff.
Industry and energy minister Jesse Norman has said today he believes Wye Valley Trust is about to be placed "under the control" of South Warwickshire Foundation Trust.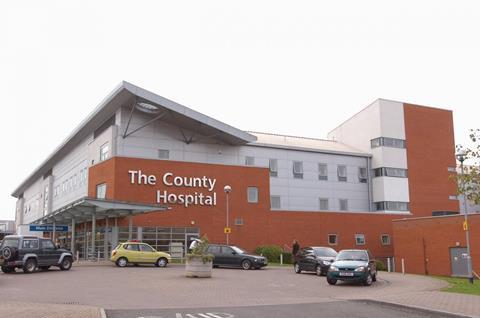 South Warwickshire currently acts as "buddy" to Wye Valley, which was placed in special measures in 2014. The trust has struggled financially for a number of years and received "inadequate" ratings from the Care Quality Commission in October 2014 and January 2016.
Mr Norman, whose constituency is served by Wye Valley's Hereford County Hospital, said he believed NHS Improvement was arranging for South Warwickshire to take over Wye Valley.
He said NHS Improvement may ask the Wye Valley board to make a decision on the takeover as early as tomorrow, and called for any merger or takeover to be stopped and for a "full and open public discussion" to happen.
In a statement on his website this morning, Mr Norman said: "We have absolutely no idea what these plans are, how they would work, who would be affected by them, what commitments the South Warwickshire Foundation Trust would make to the hospital, and above all, what the impact would be on patients in Herefordshire."
HSJ understands that a number of options are being considered for Wye Valley, including but not limited to a merger.
Mr Norman said Wye Valley's chair Museji Takolia has "abruptly" stepped down, while its chief executive, Richard Beeken, "is being moved to another job".
HSJ understands Mr Takolia is no longer chair and has not yet been replaced, while Mr Beeken is likely to leave the trust soon.
Mr Norman told HSJ: "NHS Improvement appear to be actively encouraging Wye Valley into a link with South Warwickshire without any consultation.
"For example, we have no idea what undertakings or guarantees are being offered by SWFT. If they appoint someone as chief executive, what will be their commitment to Hereford?
"How much time will they spend on site? The obvious concern is that staff, funding, energy and focus might go elsewhere.
"The Wye Valley board, and its staff and patients, must be given the time and the opportunity to consider all the possible options."
A spokesman for NHS Improvement said: "Wye Valley Trust has made progress recently and improved the services it provides to patients in the area and the way the trust is run. We are working with the trust's board on how best to make sure it gets the support it needs to continue improving and what can be done to ensure the long term future of the services that its patients rely on."
Wye Valley Trust and South Warwickshire FT have both been approached for comment.
Source
Jesse Norman statement and information provided to HSJ
Source date
27 October 2016