Union accuses trust of breaching licence by not properly consulting with staff over transfer
Non-clinical staff moved to new subsidiary company that went live this month
Trust says decision to set up company "followed two months of engagement and formal consultation"
An acute trust has defended its decision to transfer 350 non-clinical staff to a newly established subsidiary company amid an accusation from a union that it has breached its licence.
Yeovil District Hospital Foundation Trust has moved staff working in IT, procurement, estates and facilities management, housekeeping, sterile services and other back office functions to a wholly owned subsidiary company called Simply Serve. It hopes the company will make £1m profit annually.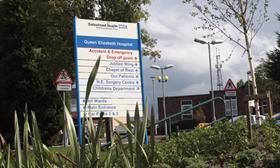 The move has angered Unison, which has written to NHS Improvement, accusing the trust of breaching its licence by not properly consulting with staff over the change.
In January 2017, the trust's board of directors agreed to work up a case for the subsidiary company.
According to the ensuing business case, the company was necessary because of the need for efficiency savings and the "flexibilities" around staff recruitment.
The trust considered outsourcing the services but felt this would put quality at risk and reduce job security.
Doing nothing was "not a viable option" due to the trust's deficit and "ongoing demand pressure", it said. This financial year the trust is forecasting a £19m deficit.
In October, the trust started "informal engagement" with affected staff and a formal consultation followed in November.
Directors then formally approved the plan to set up the company, which went live at the start of this month.
Unison said the trust should have consulted with staff prior to January 2017 – before making the decision to work up the case for establishing a subsidiary.
In the letter to NHSI, Unison's South West organiser Helen Eccles said: "The implications of the decision were that hundreds of staff would be transferred and that their working conditions would be varied."
She said the trust not consulting with staff prior to the decision breaks a pledge in the NHS constitution about engaging staff in decisions that affect them.
However, the trust told HSJ that it was not required to formally consult ahead of a decision to "explore a proposal".
A trust spokesman said: "The decision to establish the subsidiary company was taken by the trust's board in December 2017, following and informed by two months of engagement and formal consultation with staff, and considerable engagement with unions.
"We have been in frequent contact with regulators to provide the required assurance regarding these obligations."
He said the trust took legal advice throughout the process to ensure it has not breached its licence.
Guidance has also been sought by QE Facilities, a wholly owned subsidiary company of Gateshead Health FT.
According to the business case, the North East trust expects its company to deliver a profit of £6.3m after five years.
Using alternative terms and conditions of employment leading to a "reduced cost" and making savings within pay, sickness and pension costs will contribute towards the profit.
The trust confirmed new staff would be hired on different terms and conditions.
"These T&Cs have been developed to make the company competitive and attractive within the local employment market," a spokesman said.
No changes will be made to transferring staff's terms and conditions for a minimum of five years, except to mirror those of Agenda for Change.
A growing number of FTs are setting up subsidiary companies for back office and pharmacy work. By March 2017, there were 39 trusts with subsidiary companies.
Source
Information provided to HSJ; Unison statement