FINANCE: A South West trust which is a prominent vanguard site has received a £23m loan from the Department of Health, HSJ has learned.
Yeovil District Hospital Foundation Trust received the loan for 2015-16, but will require further financial support in 2016-17.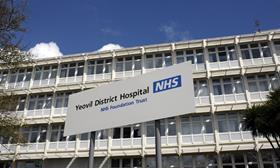 The money will cover the trust's deficit, which is forecast to be £18.4m for 2015-16, plus some additional capital expenditure.
Yeovil was one of NHS England's initial 29 vanguard sites chosen to implement new care models in line with the Five Year Forward View. It is developing a primary and acute care system – a hospital led care model involving vertical integration to create a single organisation delivering acute and primary care services.
A trust spokesman said: "Our forecast financial position for the end of 2015-16 is in line with our plan submitted to Monitor, and reflects a challenging year in which activity has significantly increased. This has driven additional operational costs, including those for agency medical and nursing staffing, which is being addressed through a comprehensive recruitment strategy in both the UK and overseas.
"We have secured loans from the DH to enable required investments into the fabric of our hospital, to secure our cash position and to enable delivery of operational improvements, such as the development and implementation of our electronic health record."
Appearing before the Commons public accounts committee in January, trust chief executive Paul Mears said the deficit was primarily the result of an ageing population increasing demand and rising agency costs.
"The biggest driver of our deficit, of moving from surplus into deficit, has partly been demography and demand driven and has partly been the challenge around the workforce and the challenges of recruiting and retaining nursing staff and medical staff," he said.
"When you are not able to do that, you have to bring in agency and bank staff. Our costs are obviously increasing.
"Drug costs have increased, as have supplies costs, and obviously our income has been quite challenged in the amount of money we are paid by our [clinical commissioning group].
"All those factors combined together have led us into the place where we now find ourselves in deficit as an acute hospital."