Patrick Crowley will step down from York Teaching Hospital at the end of this month
He has lead the trust since 2007
Deputy chief executive Mike Proctor will take over while trust searches for a new leader
The chief executive of York Teaching Hospital Trust will retire at the end of this month after more than a decade in the role.
Patrick Crowley was appointed chief executive in 2007 and joined the organisation in 1991. He held several board level roles, including performance director and finance director, before leading the trust.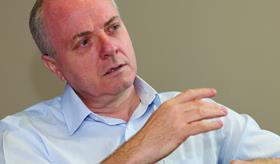 He steered the trust through a merger with Scarborough and North East Yorkshire Healthcare Trust in 2012.
Mike Proctor, deputy chief executive, will take over Mr Crowley's role while the trust searches for a new chief executive in the summer.
A trust spokesman said Mr Crowley has led the trust through some of "the most significantly challenging times that the health service has faced".
He said: "Above and beyond all else, Patrick has distinguished himself as an advocate of the patient; throughout his career and particularly during times of pressure he has ensured that patient focus remains the priority of our trust."
He added that Mr Crowley has "championed" staff who work in the NHS and led the trust to pay its lowest paid staff the Living Wage in 2015.
"Positive clinical and staff engagement at all levels has always been an important element of Patrick's leadership approach at the trust," he said.