York Teaching Hospital working on recovery plan to try to avoid financial special measures
Change to 12 monthly instalments from commissioners had 'significant impact' on cash flow
Concerns raised with NHS Improvement over new tariff
A teaching trust 'on the verge' of financial special measures is applying for distress funding after predicting it will run out of cash next month.
York Teaching Hospital Foundation Trust had a £17.6m deficit, against its plan of £2.5m, by the end of August.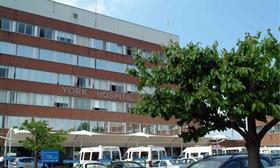 As a result, it did not receive sustainability and transformation funding of £3.4m and income was £4m behind plan in September.
The trust is now working with NHS Improvement on a recovery plan to try to avoid formal regulatory action.
It is also applying for funding under the distressed cash regime after predicting it will run out of money by November.
Minutes of the trust finance and performance committee on 19 September said the NHS England directive to local commissioners to pay trusts in 12 monthly instalments rather than 10 had caused a "significant impact" on the trust's cash profile.
Finance director Andrew Bertram "stressed that the trust is not in special measures but is on the verge and that a recovery plan has been formulated".
The trust is also raising concerns with NHS Improvement over the impact of HRG4+, the new tariff replacing the HRG4 currency for payment for healthcare.
The change to HRG4+ was expected to see providers receive more money for treating patients with more complex conditions, while those treating patients with less complex needs would see prices reduced.
Although it was supposed to be introduced last year, some providers raised concerns over its impact alongside other changes.
In his report to the trust board last week, Mr Bertram said: "It is clear there is now an established trend mismatch between our income levels and our expenditure."
He said non-elective income was £500,000 below plan despite the hospital being "extremely busy" with emergency patients.
"It appears that pathway changes from increased use of ambulatory care, assessment areas and consistently increasing short stay patients has compromised income in an unplanned way," he added.
Mr Bertram said Vale of York Clinical Commissioning Group raised a formal query given the "significant increases in activity" and will take part in a review to consider whether the trust has been disadvantaged by the changes.
"If this is proven, then there is a mechanism to provide protection from an unplanned income loss to the trust and a windfall saving to the CCG," he said.
Source date
September 2017