Imaging equipment at teaching trust failed "mid-procedure"
York Teaching Hospital approves business case for new equipment after warning of "serious risk to patient safety"
Work to replace cardiology and vascular labs to be completed by October
A regional vascular centre has revealed patients were put in danger when its aging imaging equipment failed mid-procedure.
York Teaching Hospital Foundation Trust has been warned of the potential risk of a "catastrophic failure" of equipment used in its interventional cardiology and vascular imaging labs.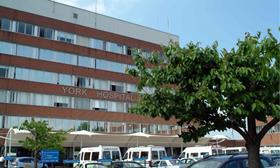 The equipment, required to meet standards of image quality and radiation dose levels, is more than 12 years old and has been breaking down around twice a month.
A business case, presented to the trust board, said: "There have been cases recently where the equipment has failed mid-procedure and it is due to the clinical expertise of the staff in the labs that patient safety was maintained.
"Clearly this is a serious risk to patient safety as the equipment becomes increasingly unreliable."
Equipment breakdowns have cost the trust more than £250,000 over the past 11 months and, because of the age of the equipment, the trust had to source replacement parts from Japan.
By approving the business case, the trust board has authorised a £1.16m programme to replace the cardiology and vascular labs at York Hospital and work is underway.
The trust approved the case, which is part of its capital programme but presented to the board for the first time on 31 May, after accepting it could lose its regional status if labs were not replaced.
The document said: "As York is an NHS nominated vascular centre providing service to north Yorkshire, it is essential that we have the requisite equipment to provide the imaging quality required.
"There is a clear danger we may not be in a position should the equipment sustain a catastrophic failure that we will be unable to provide any service at all, thus risking the loss of status to the trust."
Cardiology activity will be relocated to a mobile unit while the current cardiology lab is replaced with a new vascular lab. Once it is completed, the current lab will be replaced by a new cardiology lab.
The work is expected to be completed by October with patients being treated in the mobile unit, which will cost the trust £180,000 to hire, for 16 weeks with four weeks' contingency.
Source
Board papers and information provided to HSJ