The NHS has failed in efforts to improve health and reduce illness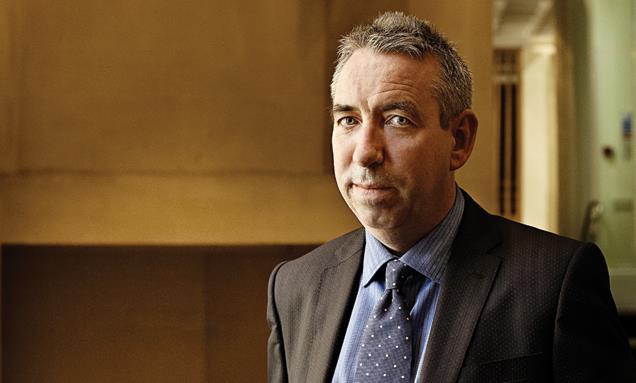 The new chief of Public Health England tells Nick Golding why councils' broad world view makes them the right choice to take over responsibility for health improvement from a failing NHS.
Public Health England's new chief executive describes the move to take the public health function from the NHS and give it to local government as a "stroke of genius". However, Duncan Selbie is so critical of the health service's performance in this area that one might consider it to have been a pretty easy decision for ministers.
Mr Selbie had worked in the NHS for more than 30 years before being appointed in April to lead the body being created to provide a national spearhead for drives to improve health and wellbeing outcomes.
However, he believes councils - which lost public health to the NHS in 1974 - are "in a stronger place to do better".
The agency's chief says his individual NHS colleagues "had done good work [and] made a positive difference over the past 40 years". However, "what you couldn't say is that as a whole we've done much good".
Of the performance of NHS organisations over this time, he says: "We still have the same gaps in life expectancy and expectation of good health. That hasn't altered and, arguably, it's getting worse.
"It's possible to respect the endeavours about improving health and reducing illness and also recognise that it hasn't worked and it's not been sufficient," Mr Selbie says.
He continues: "Over 150 years you can point to interventions or events where local government has made a difference." Improving the water supply, building decent housing and creating employment are just some of the achievements he reels off. Councils "have a much, much broader view of the world".
Local authorities will have a duty to promote the health of their population, making plans to achieve this, and will be required to provide mandatory services such as sexual health and measurement of children. At the centre of public health locally will be the director of public health, appointed jointly by the council and Public Health England. The latter body will lead a countrywide health protection service and develop the public health workforce.
National illness service
The agency will take on its responsibilities in April, led by Mr Selbie, who moved to the role following a five-year stint as Brighton and Sussex University Hospitals Trust chief executive. This does not stop him from believing NHS leaders "haven't paid sufficient attention to public health", largely because they "focus and concentrate on what happens in acute hospitals".
This leaves the health service "focused on illness and the point at which it's already happened", rather than proactively trying to stop it from occurring in the first place. Mr Selbie accuses the NHS of having avoided asking what causes obesity, excess drinking and too little exercise. These questions will, he believes, be asked by local government, which will "unleash an energy and concern about improving health".
Mr Selbie cites tackling inequality as an area where the new system can make a huge difference, expressing frustration that "where you're born is still the biggest determinant of how long you live". He says councils will decide for themselves how they improve mental wellbeing and sexual health and tackle diabetes, rather than specific objectives or priorities being foisted upon them.
Mr Selbie had a stint as NHS director general of programmes and performance, a role he says gave him a reputation as "someone who used to bother the health service about performance". However, he insists his new role is "emphatically not [about] performance managing".
Despite this, Mr Selbie has targets for his organisation. He wants to see improvements within three years against targets set out in the public health outcomes framework. These should be "irreversible" within five years.
He insists a culture of sector-led improvement can thrive. The Local Government Association will take on a key role on peer reviews and promoting best practice. Mr Selbie says: "There will be times when we need to intervene. We need to do that as early as we possibly can. We'll do that with local government."
A hands-off approach is more appropriate for councils than health service organisations, he says. "NHS organisations also do barmy things. If I had to put £5 on, I'd say I have more confidence in the maturity of local government in knowing how to address failure. They've got more experience, more maturity."
Some might consider a greater threat to public health outcomes to be the government rather than councils. Deficit reduction leading to job cuts is hardly conducive to mental wellbeing. It also threatens funding for projects to reduce health inequalities.
HSJ asks Mr Selbie whether he will be prepared to speak out if government policies worsen public health.
"When we have evidence about the public's health we are charged with providing evidence and sharing that in ways that are unfettered by the DH or the government," he answers. "The idea that public health professionals are going to be fettered is nonsense." However, "there are responsibilities that come with that freedom - it's evidence, not opinion".
"It's a rare old thing to have to stand up and surprise people with your evidence," he adds. "Mostly independence is about building relationships and intervening and influencing to do things."
Gold standard
Mr Selbie named the National Institute for Health and Clinical Excellence as a "gold standard" model for its use of evidence.
He reveals he has been working with the organisation.
"We're going to explore whether NICE would be willing to set quality standards for public health, as it does for the NHS," he says. "We've got a lot that we can bring to NICE, and NICE can bring its methodology and experience [to us]."
The public health budget
has the potential to be as controversial as Public Health England's relationship with the government. Under proposals devised by the independent Advisory Committee on Resource Allocation, councils would receive funding according to the mortality rate of under-75s in an area. Councils in north west England claim the most affluent fifth of areas will gain at the poorest fifth's expense.
Nervousness has been compounded by uncertainty about how much is spent on public health. NHS chief executive Sir David Nicholson wrote to commissioners last year asking them to redo their accounts after unexpected omissions were uncovered in relation to public health.
The DH told HSJ in January that £5.2bn would be spent on public health in 2013-14. Of this, £2.2bn would go to local authorities, £2.2bn to the NHS Commissioning Board for national programmes, £210m for Public Health England and £620m to the DH for campaigns. However, Mr Selbie puts his organisation's budget at £400m.
He concedes there is no perfect funding formula to determine how money is distributed between councils but expects "we'll get to a place where it's as good as it can be".
He restates the government's commitment that no area will be worse off than they are at present, although he admits he cannot predict funding during the next comprehensive spending review period.
The NHS gets the blame for much of the current uncertainty. Its previous failure to ask how much was spent on public health means "we're starting from a very immature place".
Mr Selbie pledges a more devolved funding system. While the agency will retain much of its funding centrally to finance its health protection function - industrial waste and biological radiation expertise is best built up at a central level - he is willing to consider giving some of its budget to councils. "I want to reach agreements with local government about how do we best do this," he says. "I'm not going to hold onto anything."
While Public Health England might not want to hold onto things, that may not be so true of the NHS Commissioning Board, whose chief executive, Sir David, will maintain control over areas of expenditure including screening programmes.
Mr Selbie describes the relationship of the two bodies as that of "hand in glove".
"David and I will collaborate intensely around ensuring the commissioning board has practical support from public health expertise," he says.
"We will not duplicate or replicate each other; we will complement each other." Public health, if its national lead is right, is to be transformed from neglected outcast to the NHS's equal partner.