Exclusive: Chief inspector of hospitals revealed
Former cancer tsar Sir Mike Richards has been appointed as the first chief inspector of hospitals.
The chief inspector and his team will sit within the Care Quality Commission and will lead the use of new powers to place trusts in a failure regime in response to care failures.
Sir Mike is currently director of improving mortality at NHS England. He was previously national cancer director for 12 years.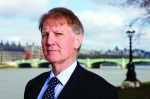 One source told HSJ: "The decision was taken that it should be a clinician in the role and that that is what would work best alongside [CQC chief executive] David Behan, who is a manager."
The post was created by the government in response to the findings of the Francis report into care failings at the Mid Staffordshire Foundation Trust. It will be a highly prominent role.
David Cameron said in February the role would be to ensure "a hospital is clean, safe and caring, rather than just an exercise in bureaucratic box-ticking".
The job advert for the role said the chief inspector will "champion the interests of patients and make critical judgements about the quality of care provided."
It adds: "The new chief inspector of hospitals will be a senior figure who will inspire the trust and confidence of the public, and who will have immediate credibility across the clinical professions.
"This is a public-facing role and the chief inspector must have the professional standing to be persuasive to the Secretary of State, clinical professions, and the public.
"Most of all, the chief inspector must have a reputation for putting the interests of patients first, and provide an honest and independent assessment of how well or badly hospitals serve their patients."
The appointment was welcomed by CQC chair David Prior and chief executive David Behan.
Jeremy Hunt said: "Identifying our best and worst hospitals is an incredibly challenging job. Mike brings to this role a wealth of experience in the best practice of patient care, and he will be exceptional at carrying the confidence of the public and the medical profession."
The move was also welcomed by two of the most senior clinical leaders working with the NHS.
Professor the Lord Darzi said: "Mike Richards is an outstanding choice. He will have the full support and confidence of clinicians. He has an international reputation as an oncologist and has done more than anyone to improve cancer treatment in the UK."
Professor Don Berwick, senior fellow of the Institute for Healthcare Improvement, who is chairing the government's patient safety committee, said: "It is crucial to the success of the chief inspector of hospitals that the Inspector be trusted by clinical leaders, staff, and managers throughout the NHS. Mike Richards perfectly fits that bill; he is ideally equipped by background, achievements, and personality to engender trust between managers and clinicians."