Women still in the minority in NHS leadership roles

Women are still massively underrepresented in senior leadership positions in the NHS, a major analysis by HSJ has found.
Just 37 per cent of senior roles on clinical commissioning group governing bodies and NHS provider boards are held by women.
Despite the fact women make up 81 per cent of the non-medical workforce in the NHS, men constitute the majority in the leadership teams of all but 12 per cent of providers and 10 per cent of CCGs.
HSJ's work forms one of the most comprehensive analyses of female representation in the NHS since the reforms set out in the Health and Social Care Act 2012 were implemented.
It found that where women hold executive level responsibilities these tend to be traditional female roles such as lead nurse or director of human resources. In contrast, three quarters of NHS finance directors are male.
Fifty two per cent of executives with a responsibility for workforce at providers are female.
Deputy managing director of the NHS Leadership Academy Karen Lynas told HSJ this division of labour was common in other industries. However, she said the "command and control" leadership style of the NHS was "unattractive to women" who, international studies suggested, tended to have a more inclusive approach.
"This emphasises the point that there isn't a lot of room for people behaving differently [in the NHS]," she added.
HSJ's analysis found the senior positions least likely to be held by a woman were those of CCG chair and medical director of providers. Meanwhile, CCGs are more than one and half times more likely to have a female finance director than providers.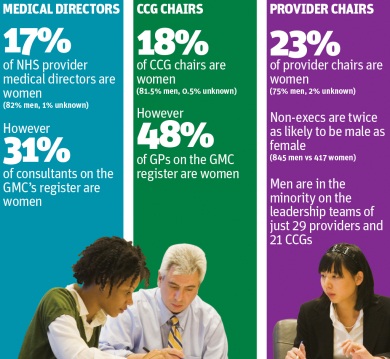 Julie Wood, the commissioning development director of NHS Clinical Commissioners, said the lack of female clinical leaders was "of concern". She suggested the fact that women tended not to be practice partners could be a cause and urged CCGs to consider creating a position on their boards for GPs working on a salaried or sessional basis.
She said the fact more women were likely to be in senior management roles at CCGs than at providers was the a continuation of a trend seen in primary care trusts.
Ms Lynas said there was "still a hierarchy of organisations in the NHS" and the higher proportion of women in senior leadership roles on CCGs reflected the fact the groups were "as yet unproven in terms of their power and influence".
It is notable that of the 10 most prestigious teaching hospitals that form the Shelford group only one has a female chief executive - Dame Julie Moore at University Hospital Birmingham Foundation Trust.
Sixty four per cent of both South Tees Hospitals Foundation Trust and Lewisham Healthcare Trust's leadership positions were held by women - the highest proportion.
South Tees is one of only 17 provider trusts to have a female chair and chief executive. Chief executive Tricia Hart said the "50 or 60" hour working week typical of executive positions could be more challenging for women but she felt positive about the future.
She said: "The fact that more people are having coaching and mentors can support them to look at the opportunities that are certainly out there."