'Poor patient experience is a clinical time bomb'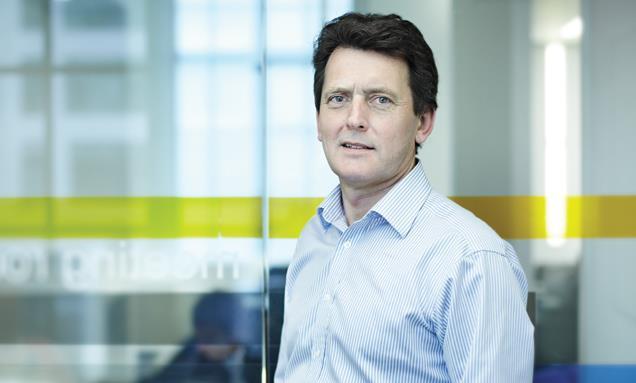 The ex-Virgin chief executive Stephen Murphy believes the firm can wed its customer service know-how with the NHS's clinical excellence to improve care across the health spectrum, writes Daloni Carlisle.
One of the tenets of Virgin management is that managers should experience the customer journey. So when former chief executive Stephen Murphy overdid it at the gym recently, he had an ideal opportunity to put this into practice.
"I had chest pains," says the 55-year old. "It turned out I had pulled some muscles but my partner insisted I go to hospital."
So it was down to the local A&E at Watford for an eye-opening experience. The medical care was fabulous, he says. The experience that went around it was decidedly less so.
"The access was poor, the signage was poor and the staff car park was three times as big as the customer car park," he says. "The customer service was exactly as John Cleese would have written it. I was taken into a waiting area and left there – and bear in mind my partner thinks I am having a heart attack so I am pretty anxious." And the discharge process was, well, there wasn't really any.
He says: "If I was using an airline parallel, it would be like giving our customers a wonderful flight but torturing them to death getting on and off the plane. The end-to-end experience matters."
Virgin is much in the mind of the NHS at the moment and especially since the March 2012 rebranding of Assura Medical as Virgin Care, following Virgin's acquisition of a controlling stake in 2010. Murphy was part of making that switch.
Virgin now has its brand on 80 separate NHS services, from community care in Surrey, to physiotherapy services in Sussex, sexual health clinics in Teesside, and 24 GP provider companies.
There are two ways of looking at this. First that this is the privatisation of the NHS driven by corporate greed. The other is that Virgin has something to offer the NHS and patients. By focusing on the customer experience but leaving medical care to the clinicians, it can improve the quality of service for patients without increasing the cost. It also has a lot of money to invest, enviable procurement models and expertise in service specification.
Not surprisingly, Murphy is in the second camp. His view matters not just because of his recent employment history – 17 years at Virgin, culminating as group CEO from 2005 to 2011 – but because he is still influential. He remains an adviser to Virgin and has a portfolio of interesting non-executive directorships, including a recent appointment as chair of NHS technology specialists The Learning Clinic.
He argues that the NHS must reform – a message he has received loud and clear from Number 10 and the Department of Health. "It is greatly loved and valued by the population in this country so we have to approach with great caution and preserve the values of clinical excellence but improve services."
The NHS cannot resist the changes in customer experience that companies such as Virgin have wrought.
Improving customer experience in health was something of a mission for Murphy while he was at Virgin. "Health is a huge proportion of GDP. I felt that here is an international business opportunity where we can bring to bear our experience in innovation, quality of service and great value for money," he says.
By "health" he means the entire spectrum, from wellness and fitness – hence Virgin Active's highly successful health clubs – to intensive therapy units in acute hospitals. He turned down a number of offers to develop private healthcare operations on the basis that "Virgin is not an elitist brand".
"We looked at the entire spectrum and for a point of entry to the healthcare market that would fit our business model, brand and values and one where we could make a profit," he says. The "blood and blade" business of hospitals was not for Virgin, he says, but primary care clearly was.
It was the poor patient experience that convinced him. "Can you call your doctor? No. Can you even get your call answered? No. Can you make an appointment to see your doctor? No. We found sole practitioners with thousands of people on their lists and frankly they are clinical time bombs."
Virgin's first foray into the NHS market was an ill-fated polyclinic venture in Swindon. Virgin pulled back from it in 2008 because, says Murphy, "It was mired with financial problems that they [NHS Swindon] tried to push off on to us. The trust seemed to think we would absolve them of all the sins they had committed. It was a poorly structured, poorly financed and poorly managed project that we could not do and we realised pretty quickly that this was going to be a very slow road to success."
Negative press
Then in 2010 Virgin acquired a majority holding in Assura Medical, which already had a model of working in partnership with GPs. It was two years before the decision to rebrand as Virgin Care this March – a decision that was under discussion as Murphy left Virgin.
"There was a lot of caution," he says. "Interestingly the doctors [in Assura Medical] were the most enthusiastic. We needed to make sure that the internal governance and performance management was in place."
There were two other factors. Would the offering live up to the Virgin brand, and was Virgin ready for the fallout of negative press and demonstrations that would inevitably follow? Yes, and yes, says Murphy. But just how easily does the Virgin brand – customer friendly, trustworthy and with a touch of glamour – sit alongside the NHS brand – much loved, solid, dependable but not really focused on the customer? If it is in so much need of reform, as Murphy says, then is he happy to see brand NHS alongside Virgin?
"We have decided in our strategy that we do not wish to be outside the NHS so yes, I am happy for the Virgin brand to sit alongside the NHS brand," he says.
The other area where Virgin may have something to teach the NHS is in management structures. Murphy is on record as having expected his boss Richard Branson to be a control freak, but was pleasantly surprised to find he left managers to get on with the job.
Virgin uses flat structures of not more than four tiers within businesses that operate almost as standalone organisations. Murphy does not claim to be an expert on NHS management but recognises there are "real questions of leadership in the NHS, real questions about consistency and direction and the ability to attract the right people."
Without suggesting that the NHS should adopt Virgin's model, he explains its benefits. "The culture in Virgin is built around empowerment," he says. "We want people to be operating below and above the median point of their grade. We want them to be developing but at the same time able to roll their sleeves up and understand what is required."
One of the reasons he stood down from Virgin was to allow a young and talented team to take over rather than holding them back. Murphy remains involved and has taken on several new non-executive directorships, including one as chairman of the technology company The Learning Clinic.
Founded in 2004 by engineer Roger Killen, its application VitalPAC uses real-time patient information to improve health outcomes. It is now being used in 20 UK hospitals on more than 250 wards, providing clinicians with early warning signs of patients whose condition is rapidly deteriorating.
Clinicians use VitalPAC to record real-time data using Apple or other handheld devices. Sophisticated algorithms support the data interpretation and automatically escalate the clinical response as needed.
But beyond the lessons about listening to patients, using good quality data to inform decisions and giving managers their heads, he is concerned about the long-term sustainability of the NHS.
"In my interaction with government I see an open and a closed agenda. The closed agenda is that we cannot afford the NHS. The open one is that we want to promote and develop it. In my view, the NHS is a fundamental plank of life in this country and for people to bat it about to get elected is irresponsible. We need to resolve the debate about what the NHS is for and what it will do."