Seraphim J. Rose Patel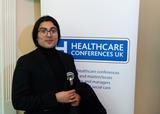 Seraphim J. Rose Patel is Quality Assurance Manager at the London Cancer Alliance. He is a member of the National Institute for Health and Clinical Excellence external Reference Group assisting with the development of audit tools. He is an executive MBA student at Bath University School of Management.

The judging panel for the prestigious HSJ Efficiency Awards 2012 has nominated Seraphim's 'A Whole Person, Whole System Approach to Integration: Reducing Costs While Improving Individual and System Outcomes' project in the Commissioning Support Services category of this year's awards.

The project, in collaboration with a colleague from social care, looks at the urgent need to develop measures of whole system working. It describes the development of a simple and practical set of measures for benchmarking and analysing local use of whole system resources as the basis for discussion and planning. Usable tools are needed as national measures are not yet available.

The project met all the critical criteria in being shortlisted for this award by the judges, from a huge number of entries.

To read more about the project, please select the article below, or contact Seraphim on the contact details provided.

A Nursing Times 2010 finalist in the category of achieving effective quality healthcare through clinical excellence, Seraphim has written over 20 publications on quality assurance, audit, clinical governance, change management, leadership and patient experience. In addition he has spoken at national conferences such as Clinical Audit, Essence of Care, Mental Health Congress and Dementia UK.

Find out more on Seraphim's author profile or connect via Linked In.
Contact Info
Seraphim J. Rose Patel
Contributor
It is the commitment of leaders, not the use of surveys, that will properly harness the power of patient experience, argue Seraphim J. Rose Patel and colleagues.

Seraphim Rose Patel explains, with a colleague, how a whole person, whole system approach can reduce NHS and social care costs.

The introduction of care navigators has revolutionised services for a London mental health trust's older patients. Caroline Leveaux and colleagues explain.