440 council staff set to transfer to Salford Royal Foundation Trust to become part of a new "integrated care organisation"
Set to be one of the first vanguard new care models to be fully realised
Some areas have felt unable to fully integrate health and social care contracts due to procurement regulations
More than 400 council staff are set to transfer to an acute trust in Greater Manchester to become part of a new "integrated care organisation".
The ICO, in which Salford Royal Foundation Trust will be the "prime provider", is set to launch in July with a budget of £213m.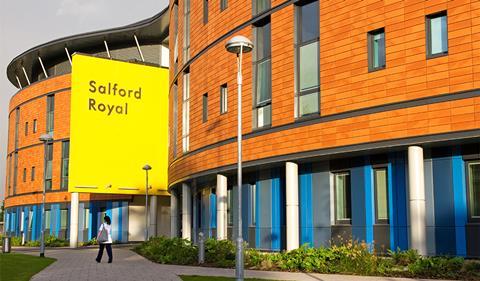 Subject to final signoff by NHS Improvement, the Salford ICO will be one of the first new care models supported by the national vanguard programme to be formally up and running.
Around 440 adult social care staff will transfer to Salford Royal under the transfer of undertakings (protection of employment) regulations. Salford City Council will then commission the FT to provide and subcontract these services, which are worth £83m.
Another key aspect of the ICO will see Salford Royal hold a £29m contract for adult and older people's mental health services, which will be subcontracted to the existing provider, Greater Manchester West Foundation Trust.
The ICO is expected to deliver £36m of recurrent savings by 2021, largely by reducing hospital admissions, cutting management costs and removing duplication. There is also a longer term commitment to move to a capitated payment system.
As previously reported by HSJ, some areas have felt unable to fully integrate health and social care services in this way due to procurement regulations.
In Somerset the county council declined to join Somerset Clinical Commissioning Group in a joint commissioning process after receiving legal advice that it could only procure its social care contracts through a full competitive tender.
These issues were explored in the full business case for the Salford ICO, but the document said there was no credible external provider "with sufficient capability or capacity".
Anthony Hassall, chief accountable officer of Salford CCG, told HSJ: "We took a lot of legal advice on it but the assessment we did said there weren't other providers of sufficient size and quality.
"We've had a really strong vision and a high level of trust between the organisations. I think if you really don't want to do something you can find a procurement rule that doesn't let you do it, [though] I don't know if that was the case in [Somerset] or not.
"The primary issue was always what would be best for patients and we wanted to go as far as we possibly can to fully integrate services."
Mr Hassall said completing the selection process before April 2016 meant new EU procurement rules did not have to be considered.
The new regulations may make it more difficult for commissioners to avoid a competitive tender process.
The Salford ICO project received £5.3m of national funding in 2015-16, and has asked for £24m from Greater Manchester's transformation fund over the next two years to cover "one-off and double running costs".
Mr Hassall said the city's "locality plan" for health and social care transformation is regarded as the "best developed" in Greater Manchester, so he is hopeful that sufficient funds will be approved.
The ICO will cover more than 2,000 staff working across adult community, mental and acute health and social care services.
About £96m of the budget will cover acute and community services, which are already provided by Salford Royal.
GPs will not sit within the ICO, though Mr Hassall said there will be "a variety of options for primary care to become involved" in the coming years, and "some may want to become salaried employees".
The CCG recently introduced new quality standards for primary care, to encourage GPs to work in federations.