Former trust chief to lead independent investigation including lessons for wider NHS
A man who murdered two women 34 years ago went on to sexually abuse 100 female corpses in hospital mortuaries, taking videos and images of his crimes, HSJ can reveal.
David Fuller was employed as an electrician and later a maintenance supervisor at the now closed Kent and Sussex Hospital, in Tunbridge Wells, and later the Tunbridge Wells hospital in Kent.
Over a period of 12 years from 2008 to 2020 he used his access to the hospital mortuaries to sexually abuse the bodies of women and girls.
Police have identified 80 victims – from mortuary records and name tags visible in some of the photos and videos Mr Fuller took of the abuse – but 20 are currently unidentified.
Mr Fuller's mortuary offences – which he admitted at a court hearing last month – only came to light when he was arrested for the 1987 murders of Caroline Pierce and Wendy Knell. Police searching his home in Heathfield, East Sussex, discovered millions of videos and photographs, some clearly showing him abusing the bodies.
Mr Fuller today pleaded guilty to the murders of the two women, changing his pleas from not guilty.
The jury in the murder trial – which was on its fourth day – had been told that he had sexually interfered with bodies in the mortuaries but not that he had pleaded guilty to offences connected with this.
Over the last few weeks, police have been contacting the families of the women involved to explain about the crimes.
Last month NHS England asked all trusts to check the security of their mortuaries and body stores.
HSJ has been aware of Mr Fuller's crimes since June, but agreed to a police request not to publish until the trial had concluded. The full details of what HSJ discovered can now be read.
Health and social care secretary Sajid Javid said: "We in government are working closely with the local police force and Trust to ensure the families affected get the comprehensive support they need at this time. I want to thank staff at Maidstone and Tunbridge Wells Trust for their ongoing cooperation with the police during their investigations.
"I have asked the health sector to take three key actions in light of these events.
"First, the NHS has written to all trusts asking for mortuary access and post-mortem activities to be reviewed against current guidance. Second, an independently chaired review is already underway into exactly what occurred at the trust, which will report into me. Finally, I have asked the Human Tissue Authority for advice on whether changes are required to our existing regulations."
Valued member of staff
In a statement, Kent Police said: "Sexual offences against deceased females took place in a hospital mortuary setting in the Tunbridge Wells area between 2008 and 2020. Officers have conducted extensive and sensitive enquiries, working closely with Maidstone and Tunbridge Wells Trust, and coroners who have assisted in providing information and facilitating access for searches that were carried out."
At both sites, Mr Fuller used his status as a valued and helpful member of staff to access the hospital mortuaries and carry out his attacks. He recorded the assaults on a small digital camera with the videos and photographs later being transferred to his home computer or external storage devices.
When police searched his house in Heathfield, East Sussex, after his arrest for the 1987 murders, they found 14m images and 4m videos in his home office and loft which have taken months to sort through. There were 100 hard drives, 2,200 floppy discs, 30 sim cards and mobile phones, 1,300 CD and DVDs, and 34,000 photographic prints, slides, negatives and film rolls.
Of the material, 3 million images and 1m videos were found to contain offences – much of it pornography downloaded from the internet.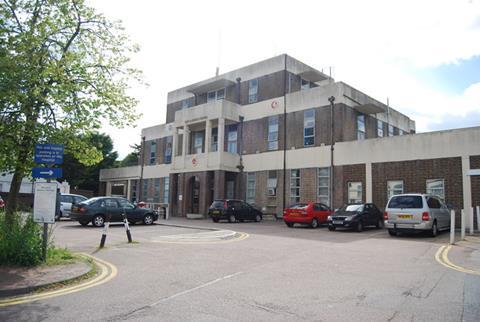 However, four hard drives hidden behind a cabinet inside a wardrobe and other material found in the loft revealed his assaults in the mortuary.
Incredibly complex
Detective chief superintendent Paul Fotheringham said: 'Fuller used his role as an electrician at these two hospitals to carry out these heinous acts on deceased victims. Not only did he kill and assault two young innocent women in 1987, who should have had their whole lives in front of them, he then found another way to continue his horrific offending by assaulting and defiling multiple victims and traumatising their already grieving families in a way that is clearly beyond comprehension.
"The evidence we presented was indisputable; at the very least the families of all the victims in these cases have been spared the additional burden of a trial.
"This has been an incredibly complex and difficult investigation. It has been extremely important that the investigation remained impartial and independent, that respect was given to victims and their families, and information only released when appropriate to do so.
"We know this is an extremely distressing time for anyone who feels that this may impact upon their loved ones who should have received the dignity they deserved in death.
"We have worked diligently with the health trust, coronial services and examined records including medical, to carry out the identification process for the victims. This robust procedure has been scrutinised by senior police officers and staff, and a senior coroner's officer.
"Part of our enquiries has been to identify victims and we have found evidence of 100 victims, having worked through the vast majority of evidence. So far we have been able to formally identify 81 of his victims in the mortuary. We have specially trained family liaison officers who have spoken to all the families of those we have identified to date.
"Dedicated and specialist welfare support services has been made available to those families. These specialist officers will speak directly and privately to all families of further victims we are able to identify as the investigation continues.
"Unfortunately, this ongoing process is not a matter with which the public is able to assist. We have narrowed down the potential identification of some of the outstanding victims and our officers will make further enquiries in a sensitive and private manner to families whose loved ones were in the mortuary during the time period we have established they were there so that we can try to determine who they are.
"Sadly, it is likely to be the case that some of the victims will never be identified. In these cases there is such limited information available to help us with establishing their identities, and there are no lines of enquiry outside of the investigation that can assist us."
MPs call for inquiry
In a joint statement, local MPs - including Greg Clark, the MP for Tunbridge Wells - said last night they had written today to the health secretary and the home secretary to ask them to arrange a public inquiry without delay.
They said: "It is beyond the powers and resources of a local hospital to conduct, and the questions that must be faced are national, not just local" and the families of the victims needed to know "how this could have happened; and that it can never, ever happen again."
However, the Home Office said that it needed to let the independent investigation commisioned by the trust happen first.
And no 10 Downing Street did not rule out a public inquiry. In a statement: it said: "An independently chaired review is already underway into exactly what occurred at the trust, which will report into the health secretary.
"The health secretary has also asked the Human Tissue Authority for advice on whether any changes are required to the existing regulations, and the NHS also wrote to all trusts asking for all mortuary access and post-mortem activities to be reviewed against current guidance.
"But we share the concerns raised by this case, and while we are not ruling it out we need to let the ongoing investigation into what happened continue.".
Full charges Mr Fuller has now pleaded guily to, in addition to murder
Charges relating to the hospital mortuaries
33 charges under section 70 of the Sexual Offences Act 2003 (mortuary offending where penetration can be evidenced)
3 charges under section 63(1), (2) and 7(c) of the Criminal Justice and Immigration Act 2008 (mortuary images without evidence of penetration)
8 charges under section 1 of the Protection of Children Act 1978 (taking indecent images of a child)
Other charges
1 charge under section 67(3) and (5) of the Sexual Offences Act 2003 (voyeurism)
1 charge under section 160(1), (2A) and (3) of the Criminal Justice Act 1988 (possession of indecent image of a child).
3 charges under sections 1(1)(a) and 6 of the Protection of Children Act 1978 (made indecent images of a child)
1 charge under section 63(1), (7A)(a) and 67(2) of the Criminal Justice and Immigration Act 2008 (possession of extreme pornography).
1 charge under section 62(1) and 66(2) of the Coroners and Justice Act 2009 (possession of prohibited images of children).
Updated: 7.50am 5 November with comments from MPs. And 15.00 with comment from Home Office and no 10 Downing Street.
100 corpses sexually abused in two NHS mortuaries over 12 year period
1

Currently reading

100 corpses sexually abused in two NHS mortuaries over 12 year period

2

3