Concerns over cardiac surgery raised repeatedly at University Hospitals Birmingham
CQC report identifies bullying and blame culture
Incidents were not always appropriately graded
"Lack of governance processes" also identified in heart surgery unit
A leading teaching hospital trust "failed to take effective action" after concerns were repeatedly raised over the safety and effectiveness of its heart surgery unit, inspectors have found.
The Care Quality Commission published the findings of its inspection into adult cardiac surgery services at University Hospitals Birmingham Foundation Trust on Tuesday morning.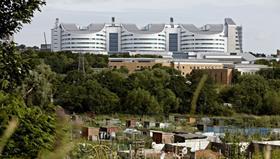 It was reported last week that the chief inspector of hospitals Professor Sir Mike Richards has required the trust to report patient safety and outcomes data to the CQC every week. The inspection was launched after the service was identified as a mortality outlier, and found "significant concerns" relating to its safety, effectiveness and responsiveness.
Tuesday's report details the full extent of those concerns. They include:
The trust "failed to take effective action" in response to concerns that its cardiac surgery service was a mortality outlier. These concerns were identified in an internal review in 2013, and again in 2014 when the service's own consultants approached the trust's executive team. The CQC said the trust was informed about being a mortality outlier in March 2015 following another external audit. Although a quality improvement plan had been launched, many staff were not aware of it.
The service had a "bullying and blame culture" in theatres and critical care. The trust's quality improvement plan did not address staff morale, behaviour or culture. Consultant staff in particular felt demoralised.
Staff found it difficult to raise concerns and "did not always report incidents". The blame culture "prevented an open discussion to encourage learning" and improvements to safety.
Incidents were not always graded appropriately. Only one incident out of around 450 was reported as "serious" over the year to November. The report said: "The incident data indicated patients who had died during surgery, failure to escalate patients, and incidents of avoidable harm. However, the severity of all incidents was graded as 'minor' with the exception of two as moderate."
The cardiac surgery service had "no vision or strategy" and "lacked clear clinical and operational leadership" at service and divisional level. As a result it was "fragmented and dysfunctional". Although the service was dealing with an increasing number of complex patients, it was not monitoring the impact of this.
There were "issues regarding low staffing numbers", and concerns around skills and training. Not all medical staff in critical care were cardiac trained, for instance.
Low staffing numbers led to operations being cancelled. There was "no monitoring of risk" for patients whose surgery had been cancelled.
There was a "lack of governance processes to monitor quality, safety and risk." Outcome data was collected but not shared or used effectively to improve quality.
Consultant surgeons did not always complete the "five steps to safer surgery checklist" to minimise the risk of avoidable harm to patients.
Surgical trainees were not always supervised by a consultant in theatres.
However, the report also notes that feedback from patients was "very positive". "Staff treated patients with dignity and respect" and involved them in decisions about their care.
The review relates only to adult cardiac surgery, and does not relate to adult congenital heart surgery, which is also carried out at UHB.
The CQC recommended the trust commission an external review of the service. This took place last month.
Sir Mike said: "Initial data regarding surgery outcomes in the months since our inspection show an improvement but we need to continue to monitor the service.
"I have made it clear to the trust that it must continue its work to develop a culture of strong team working and improve staff training as it addresses the wider issues identified on inspection. The recommendations from the external review will be central to this."
He said the CQC will monitor UHB's improvement plan closely.
Update 4pm 8 March: A trust spokeswoman has welcomed the CQC report.
But, she said: "None of the cardiac surgeons currently working at UHB are outliers for mortality outcomes and we are confident they will continue to offer the highest standards of care and expertise in delivering their service."
The spokeswoman said: "The trust established a quality improvement plan for the cardiac surgery service, which is ongoing and subject to external review. At the time of the CQC inspection in December 2015, the QIP had already improved outcomes and internal issues within the service.
"The subsequent report has added awareness and pace to what is considered a valuable exercise to enhance both staff and, more importantly, patient benefit. Patient safety remains our number one priority."