Some NHS organisations will be exempt from requirements to meet their own budget target, as long as they do so across their health economy, under "radical" new financial rules for 2016-17.
NHS England chief executive Simon Stevens also revealed in an interview with HSJ:
Money will be diverted from "transformation" in 2016-17 to address provider deficits;
health economies will be asked to produce joint transformation plans by the summer, to shift funding and activity away from acute care;
Clinical commissioning groups will be given fixed allocations for three years, and indicative allocations for the subsequent two;
they will also be given allocations and target allocations on a "whole place" basis, including primary and specialised funding; and
they will move towards both CCG and "whole place" targets in coming years.
Mr Stevens said: "We're going to put on the table an option for health economies in 2016-17 that want to, if certain criteria are met, to move towards a place based control total budget, which is quite radical, rather than [balancing as] individual institutions and [clinical commissioning groups] within it."
He said in some cases it would "enable [organisations] to act more collaboratively to dig themselves out of the financial and operational pressures, beginning next year, if they could view this as a county-wide approach, say".
It would mean that "when they do the right thing in one part of the [system]… it's not creating a pressure… somewhere else".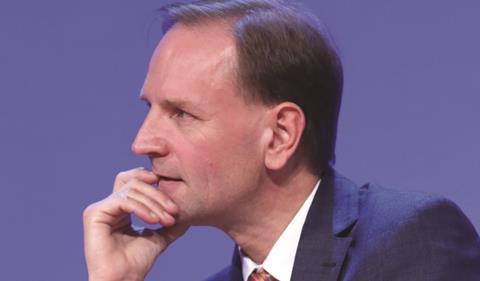 "That could be quite liberating for a number of the conversations people can see they need to have… There is going to have to be tight collective accountability on the part of [the] chief executives together in an area. They will stand or fall together, therefore, rather than on an individual institutional basis."
NHS England and NHS Improvement are working on plans for a fund over and above commissioning allocations, which will be used both to address provider deficits and for transformation. It is believed it will be called a "transition and transformation fund".
Asked about how it would be used, Mr Stevens said: "We've got to in the first instance stabilise some of the pressures that are currently there for providers, and over time a higher proportion of that will be able to be used for transformation.
"In 2016-17 a substantial part of that fighting fund will need to be used to support the pressures that are in the provider system. It does mean we're going to spend more of it on doing that than we are on new care models next year."
Mr Stevens said a lower efficiency requirement in the pricing tariff next year would mean more of the burden for cost savings is elsewhere in the NHS. He said part of this would be met through national measures such as scrapping training bursaries, while commissioners would have to drive savings by eliminating costly variations in clinical care, such as those identified in the 2010 Atlas of Variation.
Exclusive: Stevens casts doubt over NHS devolution outside Manchester
1

2

Currently reading

Stevens reveals 'radical' rewriting of financial balance rules

3

4

5