North Cumbria proposals include a formal management link between trusts and Newcastle FT to run some clinical services
Other ideas include: a new academic centre for rural health and care to attract clinical staff
A "clinical task force" to address urgent staffing gaps and develop new care models
"Helimedicine" to improve emergency response time for serious cases
Plans being developed by the North Cumbria success regime include formalising links between acute trusts and creating a "clinical task force" to address staff shortages and develop new care models.
The ideas being considered by the programme were set out in a progress update report published earlier this month. They are expected to be published in a clinical strategy in the near future, then consulted on in the summer.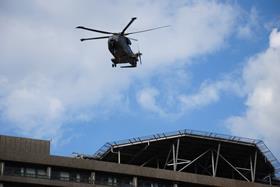 North Cumbria is one of three areas in the national success regime programme, which was launched last year to put a focus on health economies with multiple serious problems.
The update report confirms that full takeover of the troubled North Cumbria University Hospitals Trust by Northumbria Healthcare Foundation Trust, which won a competition to make the acquisition in 2012, "is no longer appropriate" and unlikely to go ahead.
Instead the two organisations plan to "cement" the close "buddy" relationship they have "with a formal legal partnership agreement".
A "legal agreement [will] unequivocally describe the responsibilities of the two boards and the specific support Northumbria will provide to NCUHT", the document says. "It is likely to include the commitment from Northumbria to be the provider for some specific clinical services, arrangements for joint clinical appointments, supporting clinical leadership development, the provision of support for strategic and operational leadership and management and access to full shared services."
Details of the arrangement will be agreed in the summer, it says, while "in the longer term consideration will be given to a new organisational form" such as "accountable care arrangements" and "the service chain concept".
The report says clinical workforce shortages at NCUHT, particularly at West Cumberland Hospital on the Whitehaven coast, have been causing serious safety problems. It states: "The current fragility of acute medicine at WCH is the result of a heavy reliance on locum medical staff due to high levels of vacancies at consultant and middle grade doctor levels. There is a particular concern about senior clinical decision-making at night."
In the long term, it says, this will be aided by improved recruitment supported by "increased confidence in a positive future" and a planned "international centre of expertise for the delivery of integrated health and care provision for people living in rural, remote and dispersed communities", in a joint venture with the University of Central Lancashire.
However, the report says shortages of clinicians will be addressed "in the short-term through the development of a clinical task force". This is described as "an innovative idea… to be piloted in Cumbria called the post operational support team. This would be a team of healthcare professionals that would work alongside local clinical teams to provide an answer to short term recruitment challenges and help in the design and delivery of new models of care."
North Cumbria currently has nine community hospitals with inpatient beds, and the plans include to either consolidate beds on a smaller number of sites or remove them altogether. They would continue to deliver other health services, according to the report.
There is a proposal to develop about seven "integrated care communities", which "will bring together general practice, social care, community services and community assets including community hospitals to provide coordinated care and better approaches to improving population health".
The report confirms specialist clinical services will be networked with Newcastle upon Tyne Hospitals Foundation Trust in "cancer services, children services and trauma services", which may lead to joint working in other areas. The arrangement will include Newcastle "managing some [Cumbria] clinical services."
Another idea under consideration – in response to poor ambulance response times and public concern about access – is "a radical proposal to establish a helicopter based emergency medical retrieval service (helimedicine)". This would "provide patients in remote and rural areas of the north of England with rapid access to an emergency medicine or intensive care consultant, equipped to provide lifesaving, specialist, and critical care".