WORKFORCE: The chief executive of one of England's largest trusts resigned this morning.
Peter Morris has led £1.1bn-turnover Barts Health Trust since its creation in April 2012. He will stay in post until a replacement is found.
At its last board meeting, earlier this month, the trust announced its planned deficit had more than doubled from £44m to £93m, although HSJ understands that the actual deficit may be more than £100m.
A report from the Royal College of Nursing published earlier this month showed Barts as the biggest spender on agency nurses.
RCN London operational manager Sue Tarr said: "Barts Health is simultaneously running both the highest deficit and the highest agency nursing bill in the country, while nursing vacancies are up around 15 per cent. The decision two years ago to cut and downgrade hundreds of nursing posts to try to save money has been extremely damaging, as RCN members warned repeatedly at the time. This has to serve as a lesson for NHS trusts that cutting jobs and wages cannot be a safe and sustainable solution to financial difficulties. The trust desperately needs a viable, long term financial plan to get the right number of staff in place to provide high quality care to the millions of Londoners who rely on the trust for their health services."
The trust is awaiting the publication of two Care Quality Commission reports which are expected to criticise the trust's culture towards whistleblowers.
At the board meeting Mr Morris said the inspectors' finding that some staff said they were too scared of "repercussions" to report problems relating to patient care was "a tragedy".
After inspecting Whipps Cross University Hospital, the CQC also sent teams to Newham University and the Royal London hospitals.
The trust also has significant performance problems, failing the four hour accident and emergency waiting target and recording a 12 hour "trolley breach" wait in January.
It is also one of the trusts not currently reporting its waiting times for elective care.
HSJ understands there had been instances in the past two months when pressure from A&E admissions meant a whole day's elective surgical lists had to be cancelled.
Barts Health was created from the merger of Barts and the London, Whipps Cross University Hospital and Newham University Hospital trusts. When they were dissolved as separate organisations, Whipps Cross had a deficit of £6m, Newham a deficit of £0.2m, and Barts and the London a surplus of £2.6m.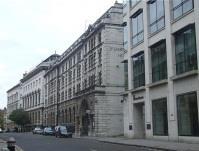 Mr Morris was chief executive of Barts and the London Trust before running the merged organisation.
In a statement he said: "When I joined Barts and the London Trust I set myself a target of five years to overhaul the fragile network of acute services that were operating in east London, and deliver the improvements to local healthcare that were so desperately needed. Barts Health is now well established and many of its services are achieving national recognition for excellence in clinical care. I will shortly be bringing together the specialist cardiovascular services of St Bartholomew's Hospital, the London Chest Hospital and the Heart Hospital into stunning new facilities at the Barts Heart Centre, which will create one of the largest cardiovascular centres in the world.
"As Barts Health moves towards foundation trust status there is a need for senior management continuity to provide leadership for the next five years, and beyond. That is a long term commitment that I am not able to make and so I feel the time is right for me to hand over to a new chief executive, and start the next chapter in my own career. I will look to take my extensive learning and experience in the healthcare sector to help others develop and deliver their own strategic plans."
Trust chair Sir Stephen O'Brien said: "Peter has been an inspirational leader at Barts, seeing through one of the most far reaching service transformations ever attempted within the NHS with the merger that created Barts Health. I would like to take this opportunity to thank him for his tremendous achievements and to wish him well in his future career. I have asked Peter to ensure continuity by staying on until the summer and he has agreed to do that. Our search for a new chief executive will begin immediately."
The trust's chief nurse Kay Riley also announced that she would be standing down this month and retiring in October.
Source date
19 February 2015