FINANCE: Basildon and Thurrock University Hospitals Foundation Trust is not "financially sustainable", Monitor has concluded.
The acute trust was found to be unsustainable by the regulator after a "sustainability review" was carried out in July.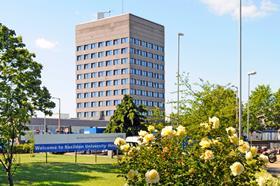 The news was revealed in the documents released by the DH relating to a loan application made by the trust to the Independent Trust Finance Facility, a departmental committee that assesses organisations for bailout or capital funding.
The review said the £294m-turnover Essex acute trust's deficit was due to "strategic and operational issues".
Basildon and Thurrock ended 2014-15 with a deficit of £23.8m and is predicting a deficit of £31.7m for this financial year – dependent on £36.7m cash support from the DH.
The organisation has taken on an extra £20m in staff costs after hiring an additional 400 clinical staff.
It did this after being put in special measures by NHS England medical director Sir Bruce Keogh in July 2013.
In June 2014 it was removed from special measures and congratulated by health secretary Jeremy Hunt for doing so.
The organisation also opened an extra 100 beds to cope with non-elective demand.
A trust spokeswoman said: "We are working to achieve our target [deficit] of £31.7m agreed with Monitor. We are slightly behind our plan due to a very challenging January which has meant we have had to open additional beds which increases staffing costs.
"However, we are the only acute trust in Essex that is on track to meet its stretch target from the regulator. There are a number of reasons for the financial deficit. The board recognises that investment in quality and capacity to meet demand are among the drivers."
No plan to shut hospitals in Essex success regime
1

2

Currently reading

Hospital trust 'financially unsustainable'