Using clinical audits will inform and support trusts' business and marketing strategy, say Seraphim Patel and colleagues at Central and North West London Foundation Trust.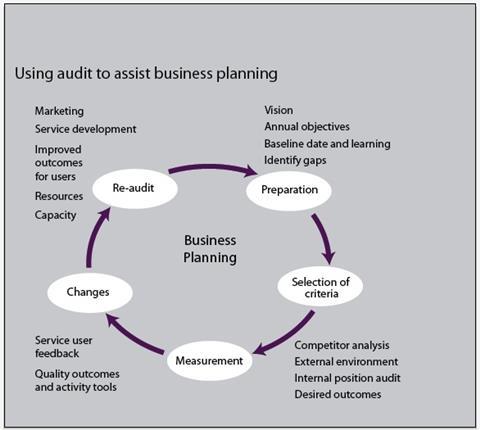 The Health Bill has placed greater emphasis on outcomes rather than meeting targets, setting a new challenge for NHS organisations in improving quality.
Business planning has always been vital to trusts but perhaps never more so than in today's competitive and financially constrained environment.
Traditionally, there has been limited overlap between clinical audit and business planning but with the increased emphasis on outcome measures and quality, there is opportunity to bring these two disciplines closer together, using the results of clinical audit to inform and support a trust's business and marketing strategy.
Aligning the business plan with the audit plan is a main element in promoting good practice and service improvement as well as identifying marketing and promotional messages.
A clinical audit comprises a cycle of activities intended to lead to improvements in clinical practice and service provision. The cycle includes five stages: preparation for the audit, selection of audit criteria, measurement, implementation of changes, and re-audit. In the same way, the organisation's business planning cycle is all about improving organisational performance and reviewing annually its performance.
Using the outcome of this review and assessment of internal and external forces the organisation is able to plan for a future where performance and delivery of patient care improves year on year and meets the quality programme.
The overall aims are to review current practice, identify problems, develop solutions, make appropriate changes to clinical practice and assess outcomes.
The whole process should then be repeated to ensure that service improvements are sustained.
If we link the clinical audit strategy to the business and marketing plans of the trust we can ensure that the results of audit are targeted to produce the information we need to grow and develop the trust's business - as well as ensuring that our own clinical practice improves year on year.
The results of clinical audit will give important messages for the whole trust as they will directly influence:
strategy and development;
operational deployment;
training;
workforce development;
equipment and other resources.
They will also provide a strong foundation for our marketing material as we promote the trust more widely to secure new business opportunities.
When we want to answer the central questions of planning, we can see the role that clinical audit can play:
Where are we now?
What are the results of our clinical audits telling us about the quality of care we deliver?
What is it telling us about our key strengths - the things that we must continue to build on to retain our market position?
What are our unique selling points that we would want to use in our marketing strategy?
Where do we want to be?
How do we compare with our competitors?
What is it telling us about the improvements we need to make to give us competitive advantage?
What areas do we need to strengthen if we want to break into new markets?
How do we get there?
What do we have to do to retain core business and develop new business opportunities?
What are the resources we need and how do we ensure that we have the capacity to deliver?
As a practical example, important tools in supporting the overall business and marketing plans we are piloting at Central and North West London Foundation Trust in our older adults directorate are the patient related outcome measures (PROMs) and the patient related experience measures (PREMs).
Measuring patient experience is a challenge, particularly in mental health, but the results so far are encouraging.
In relation to results from the PREMs pilot, for example, 72 per cent of respondents said they had been as involved as they wanted to be in decisions about their care; 100 per cent said they were treated with dignity and respect; 87 per cent had confidence in the service's ability to help them; and 88 per cent felt well supported by the service.
Given the importance of these measures, by linking clinical audit with our business planning process we can focus on making sure even more of our users are as involved as they want to be in decisions about their care and make that a priority.
When it comes to marketing, though, the very positive results around being treated with dignity and respect and service users' confidence in the service's ability to help them are messages we should be promoting strongly to existing and potential commissioners - as well as to users, carers and the wider public now there is scope to exercise choice in where they receive their care.
As with any other service, commissioners want satisfied users and users want to be satisfied with the service they receive.
Results from the PROMs pilot also provide material for the trust's business plan in terms of service improvement.
While encouraging in this pilot phase, responses around the outcome of the care they received indicate that there is more work to be done to ensure users feel the benefits of the trust's intervention.
On the other hand, 85 per cent said they were satisfied enough with the service they had received that they would recommend us to a friend or family member.
Again, this is powerful as a marketing tool and should be used to promote our services more widely.
It is still relatively early days for the health service to get into the business of planning for growth and development and operating in an increasingly competitive environment.
We need to make sure that clinical audit helps us in this endeavour.
Many of our competitors in the private sector - and indeed the third sector - do not have such a valuable in-house resource.
We should make maximum use of this discipline not just to inform our business planning process but to use the invaluable information it gives us to market and promote our services, something the private sector and the third sector are pretty adept at.
In the NHS we now need to use our clinical audit colleagues to help us position the organisation firmly in the market as a key player with a persuasive story to tell about the quality of service from a user or patient perspective.