Accuracy is essential in clinical coding not just to operate payment by results but to pursue quality and improvement with success, says Helen Mooney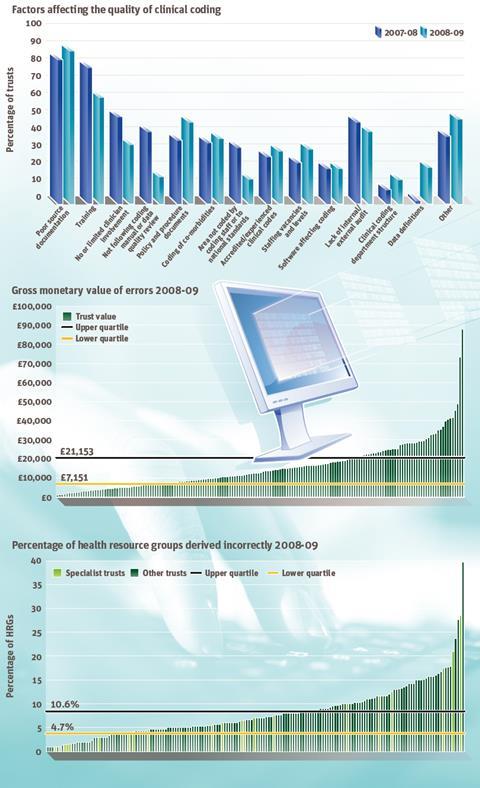 A range of factors have been identified as affecting coding accuracy
Data Source: Audit Commission
Accurate clinical coding is fundamental the NHS payment by results system. Healthcare resource groups and subsequent payments are determined by codes that relate to procedure and diagnosis. But the importance of accuracy is wider than this.
87% - Trusts reporting poor documentation affecting the quality of clinical coding in 2008-09

60% - Trusts where training has been found to be an issue in quality of coding
According to the Audit Commission's payment by results data assurance framework 2008-09, accurate clinical coding "underpins the planning and monitoring of healthcare provision, supports effective commissioning and is key to clinical audit and research".
Good clinical coding can also support many measures of quality and efficiency, and if the health service is to improve in both these areas accuracy will be crucial.
The assurance framework says there are many ways in which to improve coding accuracy both at a local and national level.
Wider clinician involvement and engagement lies at the heart of many of these.
Issues such as improving the quality of source documentation, validating clinical codes and identifying and coding co-morbidities need wider clinician involvement.
The framework says that if trusts are to achieve this they must improve training and development programmes for clinical coding staff and develop more robust audit and assurance processes.
To code effectively records need to be clear and concise. Auditors identified problems relating to the quality of records at 80 per cent of trusts. This presents not only financial risks but more importantly raises concerns from a clinical and patient safety perspective.
Effective factors
The Audit Commission has identified the most significant factors affecting the accuracy of coding. They are:
the quality of source documentation;
clinician engagement and involvement;
the identification and coding of co-morbidities;
trust coding arrangements, such as coder training, policies and procedures and internal audit.
To improve coding trusts can take a number of practical steps. These include implementing local action plans following audit reports; ensuring that findings from audit reports are reviewed through internal governance arrangements, presented to audit committees and integrated into assurance processes; and reviewing the quality of coding and wider data, using the payment by results national benchmarker, to help manage the impact of introducing the HRG4 currency for payment by results.
However, of central importance is clinicians' involvement in the coding process. Trusts should work with their clinical staff to improve source documentation used for coding, ensuring clinicians validate coding and provide direction to identify relevant co-morbidities.
Trusts can also improve the overall quality of records by ensuring clinical governance processes address the standard of records, and consider applying the national standards for the structure and content of medical records to make documentation clearer and more consistent and clinical coding more efficient and accurate.
The Audit Commission recommends that all clinical coding staff regularly attend training and development programmes and that organisations introduce local audit and assurance programmes. And they should ensure that issues identified are reflected in coder development plans and addressed in policies and procedures.
North Tees and Hartlepool Foundation Trust
North Tees and Hartlepool Foundation Trust has worked to improve record information and the quality of general surgery coding.
The trust is piloting a scheme in which a qualified clinical coding officer attends the daily ward round for emergency general surgery patients along with clinical staff.
During the ward round, the electronic discharge summaries of patients ready to be discharged are started at the patient's bed. The coding officer is available to offer advice about the depth and type of information needed for the episode to be coded correctly.
Associate director of contracting and information Pam Gretton says the trust decided it needed to work with its doctors to get them "on board" to improve coding.
"Since we introduced this pilot the quality and consistency of coding has improved. It is about clinician involvement and getting them to understand that what they are doing will improve quality of care."
The pilot has been running since November 2008 and a recent review on one of the surgical wards involved in the pilot has shown the completeness and consistency of information included on the discharge summaries has improved.
The trust has also found the profile of clinical coding has also been improved within the surgical directorate and clinicians and clinical coders are working more closely together.
Source: Audit Commission
FIND OUT MORE