Bolton FT to audit all births in its midwifery led unit in April-September 2015
Family were notified by the trust under duty of candour legislation after their baby died in July
Mother says she blames "policymakers" who failed to have up to date policies
An NHS trust and centre of excellence for maternity care has launched an urgent audit of babies born at the hospital after failings in care led to the death of a baby girl.
Bolton NHS Foundation Trust has confirmed to HSJ that it is reviewing all births in its midwifery led birthing suite between April and September this year to establish whether midwives adhered to trust policies for babies who may have needed to be transferred to consultant-led care.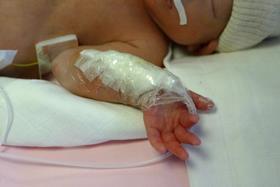 It follows the death of a baby girl in July following what the trust has accepted was "suboptimal care."
The hospital trust has been praised for its openness after it identified the incident and sent the family a letter under duty of candour legislation. It also shared the full report from an internal investigation with the baby's parents.
The 38-year-old mother, who asked not to be named said: "We felt completely let down by the very people we had put our trust in to keep us and our baby safe; the NHS. They had told us all the way through that there was nothing untoward and they didn't know why this had happened but then to receive the report, we were totally unprepared for it.
"They were lovely during the meeting to discuss it, they were getting emotional with us and the consultant kept saying how sorry they were that they had let us down."
The trust's investigation revealed changes in the baby's heart rate did not trigger any additional monitoring by the midwife as required by both trust and NICE guidelines. The midwife also failed to seek a second opinion or medical advice.
The baby was delivered with her umbilical cord loosely around her neck and she needed resuscitation before being transferred to the hospital's neonatal unit.
She died on 6 July when a detailed review of her medical records revealed the incident and triggered a duty of candour letter sent to the parents the following day.
The investigation revealed the trust's own policy on fetal heart rate monitoring was out of date and should have been updated in March this year.
It concluded: "Analysis of the incident…indicates that suboptimal care during labour occurred due to human error, departing from accepted and known procedures."
As well as the audit of births between April and September the report recommended the midwife be referred for disciplinary action and that the trust's policies are reviewed and updated. It also called for improvements in record keeping and training for all staff.
The mother added: "We have always believed that there is no such thing as bad people just bad systems. We do not think that the midwife did anything that day that she hadn't done before. We don't think she went in to work that morning with the intention of not doing her job. We think it was just common practice that the midwives had their own unspoken way of doing things.
"The fact that the policy was outdated means that we have to blame the policymakers not her."
She also criticised the trust's lack of bereavement service for mothers saying: "I was discharged, full of breast milk and no baby to feed and love plus all the other emotions associated with being a new mum coupled with those of grief. I was offered no advice or help and had to seek it out myself which should not be the how it works."
Clinical negligence lawyer Sophie Fox from JMW Solicitors said that had the midwife sought a second opinion the outcome could have been different but she praised the trust for its openness saying: "It is pleasing to see that a duty of candour letter was sent and the incident report was shared with the family. It's more than we get in a lot of cases unfortunately and is something positive to be taken from this."
Trish Armstrong-Child, director of nursing and midwifery for Bolton NHS Foundation Trust said the trust's deepest sympathies were with the parents.
She said: "We believe that whenever anything has gone wrong, it is the right thing to share with the family concerned, any internal review undertaken to look at the circumstances, even though this can be difficult and painful for everyone. This is what we have done.
"We also believe that it is important that we share with the family any lessons we have learned and to inform them of any remedial action we are taking."
She said the audit of births was not yet complete and that the trust would be increasing its bereavement services to parents.