An ambitious successor to the national dementia strategy is essential if we are to tackle one of the country's major health issues, says former health secretary Alan Johnson
Five years ago, the Labour Party cemented its commitment to improve the quality of life for people with dementia and their carers through the publication of the first national dementia strategy for England. As health secretary in 2009, I made sure this devastating illness became a national health priority.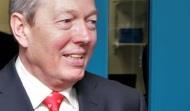 'Jeremy Hunt promised to "refresh and update" the current strategy but we are yet to see anything concrete'
About 670,000 people in the England are living their lives facing a condition that slowly robs them of their ability to remember, speak and connect with their loved ones. The strategy set out to increase early diagnosis, improve the quality of treatment and to do away with the stigma surrounding the condition that can leave people feeling they have been written off by society. For too long, the needs of people with dementia had been largely ignored; I took the decision to change this.
In an interview with Andrew Marr ahead of the strategy's publication, I remember comparing the stigma of dementia to that of cancer more than 20 years ago. Spoken about in hushed and fearful voices, dementia wasn't seen as a topic for polite conversation. In fact, unlike other health conditions, it was often reduced to the butt of cruel jokes. Reflecting on this, I realise how far the country has come, but also how much further we have left to travel.
Serious policy
In 2009, just 33 per cent of people living with dementia received a formal diagnosis. This was often because people were either reluctant to talk to their doctor and seek help, or because health professionals weren't confident in making a diagnosis. Getting a timely diagnosis is absolutely vital as without it, people are unable to access treatments and the support needed to manage their condition and plan for the future. Today, the proportion of people with a diagnosis has increased significantly and the perception that dementia is a natural part of ageing that you can do little about is waning.
'The health secretary must provide the leadership and direction needed to tackle this major issue facing our country'
Since the strategy's inception there has been a sharp rise in the prescription of dementia specific drug treatments, which can slow the progression of the disease or ease the symptoms; a reduction in the use of potentially dangerous antipsychotic medication; and a surge in dementia awareness raising initiatives. These are impressive, if long overdue, achievements. The launch of the prime minister's dementia challenge in 2012 has helped focus on the delivery of some of the objectives set out in the national strategy.
Today, one in three people over the age of 65 will die with dementia. Given that the condition costs the economy more than cancer and heart disease combined, it has to be taken seriously by any government.
However, the national dementia strategy has now expired and there is less than a year to run of the prime minister's challenge. We are now in a period where health and social care bodies, local government, leaders and providers in the dementia field are seeking reassurances about a future dementia road map that builds on the successes of the national strategy.
Losing ground
While the current health secretary, Jeremy Hunt, promised to "refresh and update" the current strategy in February, we are yet to see anything concrete. Given that the last strategy took two years to write and involved detailed consultation with leading clinicians, scientists and researchers in the field and organisations like the Alzheimer's Society, it is not something that can be hastily thrown together in a few weeks or months.
The lack of commitment or signal as to when work on a new strategy will begin means there is likely to be a significant period where no strategy is in place, with the only reliance being a more narrow focus through the time limited prime minister's challenge.
I realise that talk of "strategies" and "long term sustainable plans" can easily sound like tired political speak. However, when facing a problem of this scale it is essential to set ambitions and allocate necessary funding to deliver real change for people with dementia and their carers.
Looking abroad, we do not compare favourably. France has just launched its fourth national dementia strategy, while in the US President Obama has published an ambitious plan until 2025. These are bold and aspiring plans, necessary to meet the scale of the challenge. We, however, are soon to be left without a long term vision for dementia and are in danger of falling far behind the commitments made by our international partners.
Ambition and direction
What we need is a carefully planned successor to the national strategy and the PM's challenge that transcends party politics and is focused on relentlessly improving care and services for people with dementia. It should tackle major issues such as the integration of health and social care.
'Whole person care is the only way to tackle the major health issues of the 21st century, such as dementia'
For decades the closer integration of health and social care has been a recurrent goal of public policy, but we have yet to see its effective translation. It is my hope is that the new chief executive of NHS England, Simon Stevens, will start to see this through as he signalled that integration was a top priority in his first speech in the job.
As many as two thirds of people with dementia live in the community, therefore care should be personalised to an individual's circumstances and needs. This is why Labour's pledge to address a person's physical, mental and social needs, or "whole person care", is the only way to tackle the major health issues of the 21st century, such as dementia. A new long term strategy for dementia, with this vision at its core must be a priority, for a government of any colour.
In recent years there has been a welcome, long overdue political focus on dementia, but to really see a step-change in the way that dementia is thought of in the UK we must go further and faster.
Jeremy Hunt must provide the leadership and direction needed to tackle this major issue facing our country and commit to a new, ambitious long term plan for dementia. This will help both the NHS and social services to deliver the improvements people with dementia and their families desperately need.
Alan Johnson is Labour MP for Hull West and Hessle and was health secretary from 2007 to 2009