Epithetical questions in another restructuring, and whistleblowing report has politicians momentarily singing the same tune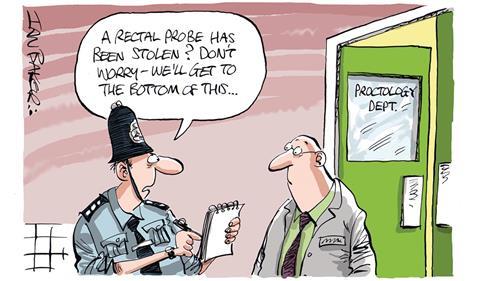 Hospitals in Greater Manchester have been troubled by sticky fingered visitors, reports the Manchester Evening News. The paper has used freedom of information requests to obtain details of thefts perpetrated at the region's hospitals last year.
'End Game appreciates self-care is important, but we fear this may be a step too far'
Thieves in the North West have made away with a car, a gold wedding ring, two laptops and £100 in cash.
Medical equipment was also swiped, with adrenaline boosters, an angina spray and a wheelchair, all stolen from Salford Royal Foundation Trust.
But one item, nicked from The Christie Foundation Trust, stood out as particularly puzzling: a surgical tool used for rectal operations.
End Game appreciates self-care is important for the future of the NHS, but we fear this may be a step too far.
Leaner NHS England keeps working out
End Game has the latest on NHS England's attempts to bolster its bureaucracy through internal reorganisation (and making a lot of redundancies): it's still dragging on.
This week's major development that saw us scrambling to stop the press was the news that its "national support centre" – the favoured term for NHS England's national team – has been dropped for the less clunky "national centre".
Having derided the name in 2013, End Game claims this as a victory.
We also keenly anticipate the next bout of management cuts getting us even closer to the ever leaner "centre".
Blame shame
Politics and the NHS share a host of similarities, not least of which is an instinct to indulge in blame games.
So it was refreshing to hear health secretary Jeremy Hunt and his shadow across the chamber Andy Burnham jostling in the Commons over just how much they wanted to see a "no blame" culture in the NHS, following the publication of Sir Robert Francis QC's report into whistleblowing.
How long could such well meaning sentiment and cross-party consensus last in the pit of partisanship that is Westminster?
'Politics and the NHS share an instinct to indulge in blame games'
Mr Hunt began proceedings cordially, speaking in hushed tones as his colleagues murmured "hear, hear" behind him in a funereal lapse from their usual roars.
To his credit, Mr Burnham managed one reconciliatory moment, saying: "I welcome the secretary of state's statement and his obvious commitment to improve the culture of tackling poor care in the NHS; there is plenty of common ground between us."
In an apparent show of the perils of top-down leadership, normal service was resumed when Mr Burnham began listing the various initiatives introduced by the last Labour government, which the coalition has left by the wayside.
Mr Hunt responded in kind by cattily bringing up Mr Burnham's refusal to hold a public inquiry into Mid Staffordshire Foundation Trust.
For the briefest of moments, the rainbow of "no blame" had hovered over the Commons, only for the black clouds of party politics to close in around it.
Parliamentary privilege
This round of political tit for tat came shortly after news broke of the eye watering sum paid by broadcasters for next year's Premier League TV rights.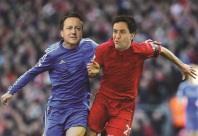 Sky and BT spent more than £5bn between them to obtain the rights to screen live football.
End Game doubts whether they'd pay the same amount to show the NHS themed "political football" seen in Westminster every week. This must explain why it's broadcast for free on Parliament TV.