End Game wonders whether Jeremy Hunt will wake up and smell the coffee, as Labour's Liz Kendall reveals her love of hip-hop veterans
End Game had a lovely time at the King's Fund recently, listening to people talk about new models of care.
An added bonus was that we got to hear a presentation by Don Berwick – international authority on patient safety and an unsuccessful candidate to be governor of Massachusetts.
Professor Berwick showered the NHS Five Year Forward View with praise, likened improving healthcare to improving your soufflé making technique and gave top tips on how to make your loo smell nice: leave an open sachet of ground coffee in there.
'Stuff the bosses who hold back innovation and try to sop you improving customer experience'
And yes, he did say "loo", which End Game can report sounds incongruous in an American accent.
He first encountered this technique on a plane, and was so taken with it he asked the staff if they were told to do it by management.
"Oh no," spake they. "The bosses tell us not to do it." But they persisted because it was better than the alternative.
Well done frontline innovators. Stuff the bosses who hold back innovation and try to stop you improving customer experience.
Health secretary Jeremy Hunt is well known for: a) wanting the NHS to be more like an airline, and b) well intentioned but unenforceable diktats on such issues as car parking and food, so can we expect an excited pre-election press release on how all NHS hospitals must have coffee in the bog?
Popularity contested
Professor Berwick also singled out a much loved health policy stalwart for a cheap laugh, which we obviously cannot condone.
During a long treatise on why regulation is a load of hokum, he made the uncontroversial claim that nobody likes regulators. But then he crossed the line into meanness.
"I asked [NHS England medical director Sir] Bruce Keogh yesterday if he ever gets invited to parties," he said, eliciting loud chuckles from all present, including Sir Bruce himself.
'Sir Bruce is welcome at End Game's parties any time'
There are many problems with this.
First, Sir Bruce isn't a regulator. Second, can you imagine an actual regulator putting up with that in a room full of high powered health luminaries rather than, say, rating everyone present "inadequate" and storming out to plot their revenge?
And third, Sir Bruce is welcome at End Game's parties any time.
Do believe the hype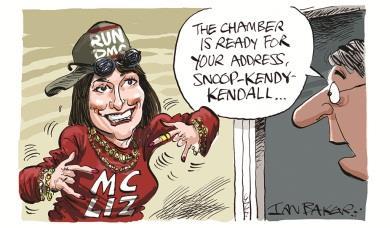 End Game likes to think we're quite hip, with our fondness for popular beat combos, but we've been blown out of the water by none other than Liz Kendall.
Labour's shadow care minister has revealed that hip-hop veterans Public Enemy and Jay-Z are mainstays on her iPod.
"I listen to a bit of Public Enemy. It's brilliant, particularly if I'm about to speak in the chamber," Ms Kendall told The House Magazine.
While End Game goes off to swot up on rap classics, we live for the day Lizzie K busts them out in Westminster Hall.
Interim solution
While Labour revealed its plans to cut waste and bureaucracy in the NHS last week, one modest commenter on hsj.co.uk had their own suggestions.
The enigmatically named "Lynn99" wrote: "Actually, we all know where the money is wasted – interims at £300-£400 per day that are useless and contribute nothing.
"Obviously some are good, like me, but I really can't see how you can justify daily rates of £500 plus a day for very average people?
"Perhaps if [NHS England chief executive] Simon Stevens banned the use of interims then they would all have to take permanent jobs, and that would save the NHS millions and millions."
Well, that's the efficiency savings sorted, then.
After the facts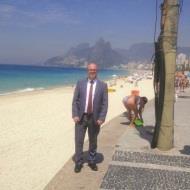 Following his departure as NHS England's overlord, Sir David Nicholson is now on quest to spread affordable, high quality healthcare around the world.
This is ambitious work that requires fact finding missions and high powered meetings.
Here he is at Ipanema beach in Rio de Janeiro – KPMG chair and partner of global health practice Mark Britnell is behind the camera – clearly dressed to impress.