This week: Johnny Mercer MP for Plymouth Moor View
Why he matters: A former soldier who served three tours of duty in Afghanistan, Mr Mercer is an accidental and unlikely MP. Recently described by The Sun as a "rising Tory star", he is a self-confessed Westminster "insurgent" unfraid to "take the bullets" his outspoken views often generate.
"It's been an abject failure." Johnny Mercer does not mince words or cut himself any slack when asked how successful he has been in achieving the goal which led him to stand for Parliament.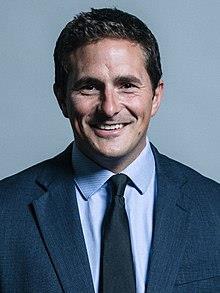 The Plymouth MP stood for election saying his primary goal was to improve the treatment and life chances of armed forces veterans. The centrepiece of his proposed reforms was a "department of veterans' affairs" or a "veteran's commissioner", whose responsibility would be to co-ordinate the state's support for the former service members, as happens in the US and elsewhere.
His hope was to "professionalise the offer to our veterans" by, for example, reducing the huge number of service charities and spreading the practice of evidence-based care.
His failure to convince the government of his cause was not down to a shortage of funds - "There's a lot of money in the veterans care sector" he claims. Instead, he says it was simply a lack of "political desire" on behalf of ministers.
The former artillery captain is frustrated with the commonly held view that the army has "a macho culture where mental health isn't taken seriously
He does not necessarily think veterans should be treated differently from others – except where their injury or illness has resulted directly from their military service. "I don't think the veterans community feel that someone who's been 20 years out of service and who is diagnosed with pancreatic cancer should have faster access to treatment."
The former artillery captain is frustrated with the commonly held view that the Army has "a macho culture where mental health isn't taken seriously".
During his time in service between 2002 and 2014 he says the Army's attitude to mental health "came on leaps and bounds".
Moral component
Admitting there is always "more to be done", particularly on suicide, he nevertheless believes that "stigma around mental health [in the Army] is not at the same scale that exists in this in civilian life". This in part stems from the army's attitude to its employees, something which Mr Mercer believes the NHS could learn from.
"In the Army, there was much more emphasis placed on the moral component. If you look at what makes a man fight, you have the physical component and you have the moral component. "People think in the military [we] bang on about values and standards in a slightly pious way and it couldn't be further from the truth.
"For example, [a] big breakdown in discipline or morale in the military is taken much more seriously than within the NHS. Problems like the junior doctor strike come about because people don't feel like they're being treated honestly or with respect. Whereas in the military, you know that ultimately everything you do is underpinned by certain values and ethos you can get alongside."
This seems an apposite moment to ask the Plymouth MP what he thinks about the leadership of the NHS, for example NHS England chief executive Simon Stevens.
Moral component
"I've got a huge amount of respect for Simon," he says. "Some high-level leaders are only ever interested in themselves and their own self progression. There's nothing in it for Simon Stevens to sit down and talk to me about healthcare. There's nothing in it for Simon Stevens to take a day out of his very busy calendar and come and visit [the NHS in] Plymouth. But he does it because he has that moral component, he has that belief in what he's doing. And I liked the fact that he's willing to get out there and fight for stuff."
The Tory maverick is more conflicted about NHS "technocrats" and managers in general.
While stating that "we can't do without managers", he claims: "The trouble is technocrats and managers think there is an academic solution for almost everything."
Not true, he claims: "Sometimes you [just] have to believe in something and make things happen through sheer force of personality and determination."
Mr Mercer is "really worried" that doctors have become "too politicised" and that has led to "unprofessional behaviour" which has started to "affect patient care"
This he says was what Nye Bevan did in creating the NHS and he yearns for a similar sense of mission from today's politicians.
He again contrasts the NHS unfavourably with the Army when asked his view of its clinical workforce.
Mr Mercer is "really worried" that doctors have become "too politicised" and that has led to "unprofessional behaviour" which has started to "affect patient care".
"I went to a school recently and one of the local GP's children was there and decided to stand up and say, 'my daddy says the Tories kill more people than cancer'.
"[In the military] you are ultimately pursuing political aims and people die. But we would never be that unprofessional to allow situations like that. Clearly, we would have people that we think should not be in charge, but we will always retain our professionalism. I fear [that doctors] have become so emotionally involved in the politics that they are losing a little bit of perspective on why they first became a doctor.
Resistant to change
"Being a doctor is an immense privilege, you are operating at the extremes, you deal in life and death, [as do] some aspects of the military. [But] there is a level of arrogance in the clinical world that I did not encounter in the military."
This arrogance, he claims "makes people very resistant to change and I think ultimately the patient is worse off".
Mr Mercer is equally impatient with what he sees as the knee-jerk reactions to attempted NHS reform from his political opponents.
As HSJ revealed in October, University Hospitals Plymouth Trust has signed a deal with Care UK to handle its orthopaedic workload.
The news produced a range of negative reactions from the left, ranging from understandable disquiet at a trust forced to take this step to wild fantasies that the move signalled an end to a free NHS.
"Anyone may have an ideological objection [to the decision] and I accept that, but don't lie about it and say that patients are going to be worse off and suddenly people are going to be paying for care. Because there will be vulnerable people in Plymouth who [will] think I won't get my operation done now because I'm going to have to pay for my care."
So, to ask the question the Bedpan always poses to those on the right, 'Is there a distinctive Conservative approach to managing the NHS?'
"No, I don't think there is," he says. Instead he suggests the Conservative's take a pragmatic approach driven by "improving" outcomes and meeting "the challenges of the day".
Acknowledging the "the Lansley reforms were a bit of a disaster", he nevertheless claims: "I don't subscribe to this idea that Tories always want to privatise the NHS or to charge people access to care."
That said, Mr Mercer is sure a point will arrive where those than can afford it will have to "contribute" directly to the costs of a "world class" NHS.
"The trouble is, no one's even prepared to talk about that. [But] healthcare spend is going up to 38 percent of GDP [please see comment from me under article] and that is not sustainable. So, it's dishonest not to have that conversation with people."
While his views on healthcare funding might irritate the left, his approach to public health interventions are like to raise objections from the right.
Healthy choices
Mr Mercer talks enthusiastically about a trip with the Commons health committee to Amsterdam.
The city's government, which includes both right and left-wing power centres, have driven an ambitious project to make its citizens healthier.
First, it launched a disruptive two-year redevelopment of its road system to "make it much easier to cycle around the city", then school meals brought from home were required to have at least one healthy food included. Finally, children were regularly weighed in a further attempt to tackle obesity.
Mr Mercer bubbles over with the excitement at the boldness of the vision, they "thought no one would accept [the measures] and then they did it and everybody agreed. It's not about a nanny state but changing the environment so that people make [healthy] choices."
If you would like to learn more about the healthcare offered to armed forces' veterans, you may like to read this recently published comment piece.
Next week: SNP health spokeswoman (and newly crowned 'People's Choice' MP of the Year) Dr Philippa Whitford
Coming up: Jeremy Heywood: an appreciation
If there is any political figure you would like me to interview, please email alastair.mclellan@wilmingtonhealthcare.com or if you are reading this on the website leave them in the comments box.
Past bedpans
Sarah Wollaston: part two - the role of the Commons' health committee
Taxpayers' Alliance chief executive John O'Connell