Dudley CCG warns GPs over buying discounted vaccines directly from Sanofi
The manufacturer is offering GPs a 50 per cent discount on flu vaccines
GPs are then reimbursed by the NHS Business Services Authority at full price
CCG says this may have "negative" impact for taxpayers
Commissioners in the West Midlands have warned local GPs against buying a discounted flu vaccine directly from one of the world's biggest pharmaceutical firms as it may have "a negative impact for the NHS and taxpayers".
According to a briefing by Dudley Clinical Commissioning Group last week, drug manufacturer Sanofi is offering GP practices a 50 per cent discount on the flu vaccine Quadrivalent (QIV), against an NHS list price of £8, from April.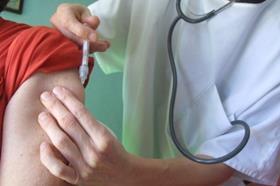 Commissioners have said this may create a cost pressure for the CCG because when GPs are reimbursed for the vaccines they receive £8 per dose rather than the discounted price of £4.
Surgeries are reimbursed by the NHS Business Services Authority, which then recharges the CCG. Practices do not have to tell CCGs how much they paid for vaccines.
The briefing paper, published last week by the CCG, said: "General practices are in a position to order flu vaccinations with multiple discounts on offer by manufacturers and considering business income streams are likely to generally move towards those manufacturers offering [the] greatest discounts with [a] reputable supply. However, the larger discounts on offer may be at a negative impact for the NHS and taxpayers
"Soft intelligence informs that Sanofi representatives have delivered information to general practices, resulting in some practices currently placing (or have placed) their 2017-18 flu orders for the QIV vaccine with Sanofi offering a 50 per cent discount (to the general practice) against the NHS list [price] of £8.00 per dose."
GPs have been able to place orders since last autumn.
A CCG spokeswoman said: "Each GP practice operates as an individual business. Practices are not obliged to inform the CCG of how much they pay for vaccines as they pay for these from their practice income. They submit a claim to the NHS Business Services Authority which reimburses at the manufacturer's NHS list price. The authority then recharges the CCG."
There are currently two types of flu vaccine available to the NHS: QIV and Trivalent.
GlaxoSmithKline offers QIV at an NHS list price of £9.94. Last year, Sanofi said it was bringing out QIV at an NHS list price of £8 for 2017-18.
The briefing said these vaccines are "not recommended due to the significantly higher NHS list price" and GPs were asked to order Trivalent vaccines that have NHS list prices of £5.22 and £5.25.
According to Dudley CCG, Public Health England is carrying out a cost effectiveness analysis for QIV compared to Trivalent.
However, the Green Book – which contains the latest information on vaccines and vaccination procedure – published by PHE in 2013 said "all other things being equal, quadrivalent inactivated vaccine is preferable to trivalent inactivated influenza vaccine".
Duncan Jenkins, a specialist in pharmaceutical public health for Dudley CCG, said: "The medicines management team have identified a potential cost pressure for the CCG prescribing budget in 2017-18, due to an anticipated increase in the prescribing of Quadrivalent vaccines. One of the reasons for this increase could be the higher discounts offered by pharmaceutical companies for this vaccine."
A Sanofi spokeswoman said: "Sanofi provides discounts to healthcare professionals in the UK on influenza vaccines similar to those offered by other influenza vaccine manufacturers. We cannot comment on the status of NHS reimbursements as we do not have a role in this part of the process."
A spokeswoman for the NHS Business Services Authority said: "The NHS Business Services Authority makes reimbursement and remuneration to dispensing contractors in accordance with the drug tariff and the GMS statement of financial entitlements directions 2013. We are unable to comment on matters of policy."
Julie Wood, chief executive for NHS Clinical Commissioners, said: "Making sure that the most cost effective vaccines are used is an important priority for CCGs. Through their medicines management teams they give evidence based advice to their member practices on the best options to use both in terms of patient care and in making the greatest use of the limited NHS pound. Individual practices then choose the vaccines that they will use, and claim back the stated NHS list price for these, with the CCG ultimately bearing the cost."