In the first of two articles looking at how clinicians are shaping cancer care treatment in London, Kathy Pritchard-Jones writes about how recruiting leaders with shared values has reaped rewards within a year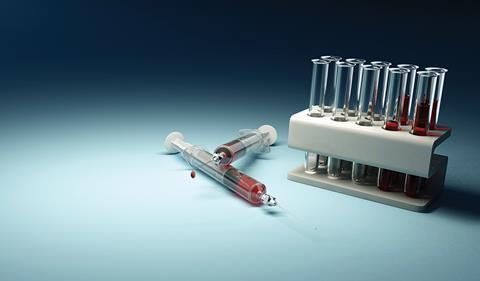 A London cancer system priority: Earlier diagnosis
To put patients at the centre of service delivery we knew that we needed to change what our clinical leaders do and how they do it, as evidence suggests effective clinical leadership is crucial to driving change in healthcare.
'By organising the treatment of NHS cancer patients in London in this way, experts predict it could help save a thousand lives a year'
London Cancer is an integrated cancer system that brings together GPs, secondary and tertiary care providers, academics and charities to use joint resources and expertise to provide the best possible outcome for every patient. The region we cover includes north central and north east London and west Essex, with west and south London coming together as the London Cancer Alliance.
These two systems have been set up to deliver the ambitions set out in NHS London's A model of care for cancer services paper, published in August 2010. The paper focused on the poorer survival rates of cancer patients in London compared to the rest of the country. It outlined how a focus on earlier diagnosis and on improving access to "best practice", including the consolidation of specialist services, could deliver benefits to patient outcomes.
Gold standard model
The systems are based on similar international models, such as the highly successful model of care practised in Boston, US, which is recognised as a global gold standard for cancer care. By organising the treatment of NHS cancer patients in London in this way, experts predict it could help save up to a thousand lives in the capital every year.
From the very outset, our way of thinking about improvement was to co-design services in partnership with patients and primary care. This focus was reinforced when the National Cancer Patient Experience Survey was published in 2011 and showed several trusts in London were consistently in the bottom quintile of the survey, even though they may do very well in other aspects of care. This made it apparent that patient-focused care is not just about saving lives and making treatment for cancer less toxic, but about making the whole experience better for patients.
So we stepped back and asked the questions: what does great care actually look like for our patients and what matters most to them? By doing this we developed our system priorities:
patient focus and empowerment;
earlier diagnosis;
optimal care along the pathway;
embedding research, working together with patients; and
increasing value with continuous improvement
We recognised that the most effective leader might not be the person who is the most senior academically, or from the biggest provider. So we developed a competency framework based on our values to recruit clinical leaders − our pathway directors.
The skills we were looking for, in addition to relevant clinical expertise, were based on the ability to bring organisations together in a partnership model and to instigate a cultural change that shifts the focus from the traditional metrics of institutional activity and achievements, to one that is centred on improvements in patient outcomes and experience, as delivered by the entire pathway of care.
Our structure is based around the patient pathway for individual tumour types, from promoting prevention, symptom awareness, education and access to tests for earlier diagnosis, through to equitable access to best practice treatment, and empowering patients to have a better quality of life, while living with and beyond cancer treatment.
Pathway boards
Our cancer pathway directors each lead an executive expert team, or "pathway board", that comprises patient and primary care representatives and multidisciplinary cancer professionals from each of our 12 NHS provider trusts. Together they are responsible for improving outcomes and how patients feel about their care along the whole of their cancer-specific pathway.
'Rather than seeking to place blame or measure delays, this project is about clinicians working together
Working with HR specialists and leadership experts from the UCL Partners Staff College, we designed a bespoke process to recruit our pathway directors. Fundamentally, our pathway directors had to share our values and ethics.
Technical expertise − being a good nurse or a good doctor − was one of nine competencies and the process was weighted towards people whose ethos meant they could work effectively in partnership with all stakeholders, including patients, and who were passionate about the benefits that research and innovation bring to clinical practice. This meant the roles were opened up to candidates from a variety of backgrounds across NHS clinicians, university employees and people who are both clinically and research active.
Many senior clinicians in the NHS have become cynical about change because they've lived through it so many times before and have not always seen real or sustainable benefits for their patients.
If you are trying to reorganise services around just one hospital, there is only so much you can do. If you are given the opportunity to think about a population of 3.5 million people being served by 12 provider trusts, you can think more innovatively and start aiming for international standards of best practice.
Emergency presentation
The National Cancer Intelligence Network estimates that across our region, 16-35 per cent of patients are diagnosed with cancer through an emergency presentation route at one of our trusts. In comparison, the national average is 24 per cent. Being diagnosed at a later stage results in poorer health outcomes, meaning patients are more likely to die within a year and significantly more within three months of diagnosis.
Even in the more common cancers, a significantly higher number of patients still present through the emergency route in our region, including up to 26 per cent of colorectal cases and 43 per cent of lung cases.
'In our first year as an integrated cancer system, we are already seeing changes across the system driven by our pathway directors'
We are responding to these terrible statistics by leading a project − in collaboration with 12 accident and emergency departments across nine acute hospital trusts and GP practices in the London Cancer region − to understand the reasons why patients are diagnosed with cancer in this way. The project will support interaction between primary and secondary care, by carrying out a root cause analysis across the whole diagnostic pathway.
Rather than seeking to place blame or measure delays, this project is about clinicians working together to unpick the underlying issues and addressing them as a healthcare system.
To understand how the route to diagnosis affects an individual's experience, a questionnaire is being offered to all patients identified via this route in secondary care. Interviews are being carried out with 40 patients who wish to give a more in-depth account of their experience, in an academic and health services collaboration.
Early success
This is the first time that an analysis of patient route to diagnosis will be combined with their reported behaviour and involvement with the healthcare system. Our aim is to make recommendations that will help drive improvements in patient experience, earlier diagnosis and one-year cancer survival rates for the population of the London Cancer region.
London Cancer is about empowering clinical leaders to realise their ambitions for patients, while providing their teams with the operational support and development they need to deliver our shared objectives. Cancer pathway directors have been supported through individual leadership training, chief executive and medical director mentorship and participation in multidisciplinary team development in partnership with local GP leaders, to address the key challenges and shared barriers to improving outcomes and patient experience.
In our first year as an integrated cancer system, we are already seeing changes across the system driven by our pathway directors. Through recruiting leaders who share our vision and values, we've seen an unprecedented offering of support from our trusts and their staff. Not just from the pathway directors, but cancer managers, lead clinicians, nurses and other health professionals, who have seen the positive changes we are already making for their patients and been encouraged to get involved.
Our people are vital as they are the ones who know where the gaps in London's cancer services are and have the ambitious ideas required to address our patient experience record, to enable us to genuinely put patients at the heart of what we do.
Professor Kathy Pritchard-Jones is chief medical officer at London Cancer
Case study 1: North Thames Children, Teenager and Young Adults Cancer Network
"Our network, hosted by London Cancer, has set up the North Thames Teenager and Young Adults Cancer Network Coordinating Group, which brings together clinical representatives from the NHS trusts covered by a number of cancer networks and integrated cancer systems in the north Thames region. These are London Cancer, the Essex Cancer Network, the Mount Vernon Cancer Network and the north west region of the London Cancer Alliance.
"The group has a population base of 6.7m people and we have put in place a multidisciplinary team, where every patient in our region between the ages of 13 and 24 is discussed. In accordance with NICE improving outcomes guidance, 18-year-olds and under are treated at University College London Hospital and 19-24 year olds are offered the choice of their local hospital or UCLH for their treatment. By discussing every patient within one team, all treatment options can be explored and offered to the patient, including clinical trials, which they might not necessarily hear about if they are being treated at their local hospital. This is important not only for helping young people to survive cancer, but also to ensure that the holistic needs of our patients are being met.
"Members of the group have all taken responsibility for raising awareness of the multidisciplinary team among leaders in cancer and the staff in our networks. As a result of this collaborative approach, we have seen a 200 per cent increase in the number of patients being referred to us since the team was set up in from December. As a team, we know that the appropriate professionals are now discussing patients to ensure they have access to the best possible treatment and care."
The group in numbers:
Four cancer systems working in partnership
6.7m population base
13 clinical staff members in the teenager and young adults multidisciplinary team
11 NHS trusts designated for the care of teenagers and young adults
One principal treatment centre
Dr Rachael Hough is co-chair of North Thames Children, Teenager and Young Adults Cancer Network and consultant in haematology and stem cell transplantation at UCLH
Case study 2: colorectal cancer pathway
"I find it difficult seeing people in my clinic who I cannot cure, when just one screening test could have saved their lives life. This is my motivation for being involved in London Cancer. Bowel cancer is a curable and even preventable disease if it is found early enough. Just sitting and waiting in my clinic for patients to turn up with symptoms is not the way to improve outcomes for our population.
"A major challenge we face is that the colorectal cancer pathway is divided between screening, primary care, secondary care and tertiary care, all in their own silos. What the pathway board has done is come up with one set of guidelines with the ambition to join up all of these care settings, to set a consistent standard for the London Cancer region. These guidelines have been developed through a collaborative process involving all of the multidisciplinary team leads across north central and north east London and west Essex.
"We're also working collaboratively with our GP colleagues on shortening the patient pathway to diagnosis and have designed a triage-based, straight-to-test system to achieve this. For patients with colorectal symptoms, this will mean one referral and a definitive diagnosis, rather than being bounced around the system. After the test, most patients will find they go back to their GP with confirmation of a benign condition that can be managed in primary care. For those that need treatment for cancer, it means they will arrive in my clinic at an earlier stage with a better prognosis.
"We have also fostered cooperation with the London Cancer Alliance. Muti Abalafi, my counterpart at the alliance, and I have authored new referral guidance for GPs for the whole of London. This means there will be one clinical voice across the capital and an equitable service for everyone in our population.
"I see this as just the beginning of the process. We need to aspire to become even more integrated and continue to challenge the status quo, to make sure our patients receive the highest international standards of care."
Colorectal cancer pathway in numbers:
60-69: the ages between which all men and women are invited to screening every two years
40 per cent average screening participation in London (60% nationally)
25 clinicians working in partnership with patient representatives on the London Cancer colorectal pathway board
Two integrated cancer systems sharing best practice
Michael Machesney is pathway director for colorectal cancer at London Cancer and consultant colorectal surgeon at Barts Health Trust
Case study 3: lung cancer pathway
"As a rule, lung cancer symptoms tend to occur late in the disease process. Because of this, it is often incurable by the time a patient reaches a specialist.
"There is only one evidenced way of improving this situation and that is by using CT scanning to screen for small lung cancers before symptoms occur. A large trial involving more than 50,000 people in the US found that mortality from lung cancer could be reduced by 20 per cent with annual low dose CT scanning of the chest.
"While this has been successful in the US, we need to know how effective CT scanning would be for our population. To enable us to explore this further, we have brought together a team of experts from across our region to collaborate on the project, including Professor Jane Wardle, director of the health behaviour unit at University College London; Stephen Duffy, professor of cancer screening at Barts Health Trust; and Dr Julie Billet, director of public health for Camden and Islington.
"The team has been awarded funding for a Darzi Fellowship, which will give a GP trainee a year to develop a strategy that brings primary and secondary care together to deliver this screening model in small trial areas. The trial will assess whether those most at risk of lung cancer in our population will take up the invitation to be screened, and how this will affect local health services.
"Our team is applying for national funding and seeking local partnerships to enable this important study to take place."
Lung cancer pathway in numbers:
1,500 new lung cancer patients treated in the London Cancer region every year
24 clinicians working in partnership with patient representatives on the London Cancer lung pathway board
One life saved for every 300 chest CT scans performed (in US study)
20 per cent decrease in lung cancer mortality with annual screening (in US study)
Dr Sam Janes is pathway director for lung cancer at London Cancer and a consultant in respiratory medicine at UCLH