The "Darzi" Fellowship is helping to drive forward clinical commissioning by developing a new breed of primary care agents provocateurs, writes Varya Shaw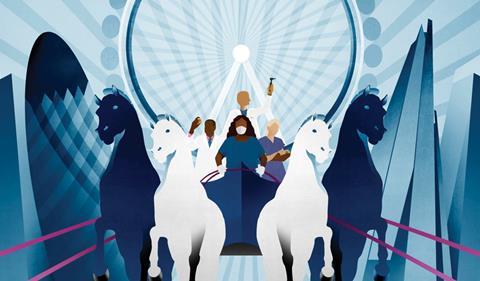 The "Darzi" Fellowship launched four years ago to provide hospital registrars with postgraduate training in clinical leadership, and help transform London's healthcare through service redesign.
Today, it has a different focus − developing a new breed of primary care "agents provocateurs" to drive forward clinical commissioning.
Almost all the fellows who started in September 2012, the fourth cohort, are primary care clinicians attached to one of the capital's shadow clinical commissioning groups. Two-thirds are GPs and of these, half are registrars and half are fully qualified. The remaining third is made up of qualified pharmacists, nurses, dentists, paramedics and physiotherapists, plus a handful of senior hospital registrars.
'Commissioning is fluid, unpredictable and relational. You're often trying to engage quite disparate entities with very different interests'
The fellowship, which was designed and set up by NHS London and the London Deanery, combines theory, workplace projects and coaching. The theory element, delivered in a bespoke support programme by the Centre for Innovation in Health Management, teaches that to get the best outcomes from commissioning, you need to understand complexity.
Problems encountered in hospitals – for example, how to maximise theatre capacity – may be complicated but they are not, broadly speaking, complex. They are technical and linear and respond to top-down solutions. Commissioning, on the other hand, is complex. It involves many moving parts that interact in unpredictable ways, and these cannot be controlled by top-down solutions.
Programme director Duncan Ross explains: "Commissioning is fluid, unpredictable and relational. You're often trying to engage quite disparate entities with very different interests − hospitals, GPs, social services, patients − around a particular problem or issue."
Generating understanding
With clinical commissioning groups still in formation, "Darzi 4" does not try to provide definitive answers. For complex problems, there is no such thing as a once-and-for-all solution. Instead, it aims to generate understanding of the techniques and circumstances that make change possible. "We teach fellows to focus on the enabling conditions which create more purposeful action in systems," says Dr Ross.
These enabling conditions include a sense of common purpose, open and productive relationships, shared information and effective leadership. Creating these conditions requires a deep understanding of organisations – which is why Darzi 4 teaches leadership through the prism of organisational development.
"We're downplaying the word 'leadership' because people approach it with a set of assumptions based on the heroic model, which you then have to spend a lot of time unpacking," says Dr Ross. "Understanding how organisations work, and how to change things in organisations, creates a model for more effective leadership through another door," he adds.
The fellows put these ideas into practice in ambitious workplace projects. Khyati Bakhai, a GP and a "Darzi" fellow at Sutton CCG, is working on a project to clarify the true cost of shifting end of life care into the community. People assume it is more cost effective, but is it really? If not, should quality and non-monetary value come more to the fore in making the case for such a shift?
'Understanding how organisations work creates a model for more effective leadership through another door'
Dr Bakhai says: "One of the key things I have learned is about asking the right questions in the right way, to the right people. I have learned that I don't need to have all the answers, but in order to get them, the questions need to be posed to the right people with the right resources."
As well as a focus on clinical commissioning, Darzi 4 has two other important differences from previous cohorts. Previously fellows were trainees but this year the majority are fully qualified clinicians in the early stages of their careers.
Professor Tim Swanwick, dean of professional development at the London Deanery, says this allows fellows to learn leadership and management at a time when they can actually use it. He cites feedback from previous Darzi fellows that "opportunities which help scaffold you into leadership roles in primary care" are needed.
The other difference is the mix of trainees − a range of primary care roles, not just doctors.
Long-term impact?
So what is the long-term impact of the fellowship? The underlying assumption of the programme is that individuals can have a powerful effect − especially as a self-organising network of change agents whose influence cascades through the health service.
'If there is a wider lesson from the fellowship, it is that investing in individuals is worth every penny'
"The 'Darzi' fellows are agents provocateurs within healthcare if you like, doing a lot to develop leadership locally and build capacity, with profound system benefits," says Professor Swanwick.
"We have a tendency to infantilise physicians in their late 20s and early 30s. In any other organisation this youthful and energetic group would be driving the business, but in the NHS they are left occupying menial roles in the clinical hierarchy. The fellows also have a totemic role within the wider system, demonstrating what clinicians in the early part of their career can do," he adds.
Take Dr Francesca Cleugh, one of the 2008 cohort and now a consultant paediatrician at St Mary's Hospital. In her first post-Darzi role, she worked on a paired learning initiative where doctors and managers "buddied up, got into each other's' worlds, and worked on service improvement projects together". After that, she mentored junior doctors and managers on a pan-London scheme, Learning Together, Leading Together. She recalls: "The energy was palpable as a stirring in the ranks towards more cohesive working unfolded."
Politically savvy
Dr Cleugh then moved trusts, where she helped found a junior doctors' leaders group: "I put together a programme delivered by key people within the trust, sharing with us the intricacies of the business side of the NHS, how to be politically savvy, how to effect transformation and many other topics.
"My clinical role in the trust was a stressful and challenging one. I could easily have soldiered on and left the trust barely touching the sides. Before Darzi I would have done. Sharing the experience with the others in the junior doctors' leaders group of having the bigger picture opened up to us was a fantastic experience again, akin to being one of a cohort of "Darzi" fellows. It really is infectious," says Dr Cleugh.
She continues to work closely with other fellows from her cohort, and says: "I believe the energised, forward-thinking, confident clinician I've become is testament to seeds sown during my 'Darzi' year. Seeing the network of like-minded enthusiasts widening [reminds me that it isn't] a single project that would represent success, but the impact we might have over the next five, 10 or 30 years."
Alongside other strategic health authorities, NHS London, which funds the fellowship, ceased to exist on 31 March. The good news is that the three London local education and training boards have picked up the baton and recruitment is now under way for a fifth cohort of fellows in 2013-14, a project that will be led by the NHS Leadership Academy's city-wide local delivery partnership.
If there is a wider lesson from the fellowship, it is that investing in individuals is worth every penny. A trust can benefit hugely from a single clinician trained in this way. The effect of a network of such clinical leaders across a local or regional health system is even greater.
Find out more
Varya Shaw is a freelance journalist