What NHS England isn't telling you, and more indispensable insight for commissioners, by Dave West.
Speaking at the launch of his new book advocating a very different approach to health and care, Alex Fox noted for context: "It's difficult to talk about public service reform during austerity. Services are under attack, money is very definitely the immediate issue, but it's not the only issue."
In proposing a very different way of doing things in Escaping the Invisible Asylum, which draws on the approach of the very different kind of provider, Shared Lives Plus, which he runs, Alex is careful to say more capacity is also needed in existing health, care and support services.
Shared Lives has convinced hard headed people of its merit – the Care Quality Commission devoted a whole section of its State of Adult Social Care report to praising it and its approach remains the exception rather than the norm.
You can watch his talk from the book launch or read his blogs on the subject. He argues: "The idea of separating people into those who are citizens of their communities, and those who are wards of the state, remains threaded through our health, care and support services, in ways which have become so familiar they are invisible."
Escaping the visible asylum
Simon Stevens spoke at the book launch (not available on video), including about a learning disabilities hospital in the North East that, when he worked in the area 30 years ago, was expected to close. Two years ago, he took a diversion to have a look and discovered it was "a large and apparently vibrant, clearly growing, learning disability institutional set of services where 30 years on it was not apparent that much has changed".
Both his visit and Alex's book were "a very timely wake up call to the fact that not only have some of the things we thought needed doing over many decades still not got done, but also that a better version of the future is possible", the NHS England chief executive said.
Over the last year, the mental health sector has confronted the "funded and forgotten" – substantial numbers of people in "locked rehab" units, which aren't much focused on rehab; while the CQC's State of Mental Health Services report last year said: "More than 50 years after the movement to close asylums and large institutions, we were concerned to find examples of outdated and sometimes institutionalised care…
"These wards are often situated a long way from the patient's home, meaning people are isolated from their friends and families. In the 21st century, a hospital should never be considered 'home' for people with a mental health condition."
Each sector and service has distinct and difficult issues. In acute hospitals, there have been growing numbers in acute beds who are considered medically fit for discharge, including patients "stranded" in hospital for weeks. There are people on wards that are clearly not safe or compassionate.
One longstanding macro trend the NHS seemed to have overturned in recent years was the steady reduction of open general and acute beds, making way for an apparent stabilisation.
More of the same, trying something different
Several factors may have necessitated this, including the high profile pressures on hospitals in recent winters, fuelled by high bed occupancy. The issue of acute bed numbers remains a lively and vexed one – one of the most vehement challenges HSJ received last year was from NHS England, seeking to persuade us there had been a very small rise rather than a very small fall. Either way, numbers were pretty much static after decades of gradually falling – though early signs are that over this winter they may have gone back to decline (possibly linked to late winter funding).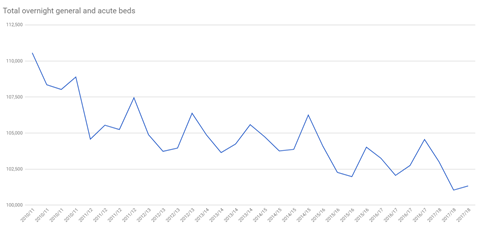 Analysts and strategists have been clear for some time that there's little evidence that fewer will be needed – without major changes to current models and practices – given population changes, and one of Mr Stevens' first interventions at NHS England was to tear up assumptions that integrations via the better care fund would save substantial acute capacity. Yet pressing for bed closures remains a default mode for whoever is holding the purse strings.
Conversely, those calling for substantial acute bed growth based on recent demand figures occasionally forget care and support outside hospital is another important variable in the equation – and one that can be changed. Emergency care clinical directors did not forget it in winter when, in their open letter to the prime minister, their first ask was for investment not in emergency departments but in social care.
State funded, non-NHS care and support has been slashed in recent years, particularly in some areas that are highly dependent on it. Meanwhile, NHS spending and workforce in the community certainly haven't rocketed, and have nudged up and may have fallen.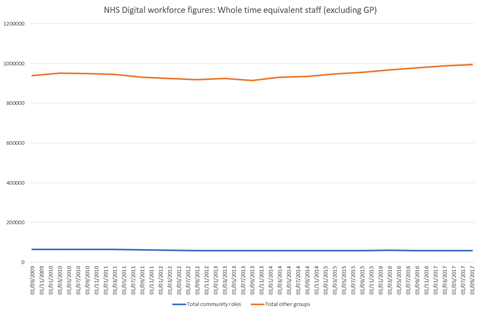 Asked at the book launch about managing the tension between the drivers to do more of the same in health and care, versus those to do something different, Alex Fox wisely avoided an unhelpful dichotomy, arguing "we're still going to need our hospitals and care homes".
But he added: "If we carry on just piloting and tinkering with models that are currently small scale, there's a self-fulfilling prophecy. They can remain small for as long as we want them to or we can invest in them. If we don't invest in them, we shouldn't be that surprised if they stay small."
Dave is HSJ's Deputy Editor.