Emergency admissions of patients with rare neuromuscular conditions can be avoided if specialist support and coordinated care is available in the community. By Kate Bushby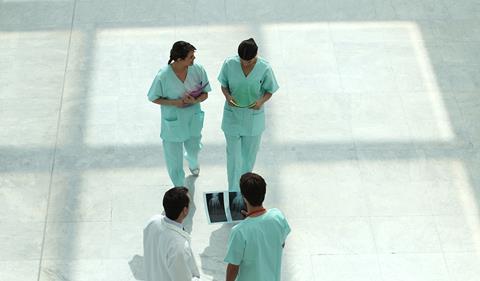 Staff need to work together to improve the patient experience
About 40 per cent of emergency admissions of neuromuscular patients could be avoided if patients had access to specialist support and better coordinated care in the community, a recent audit has found.
Access to specialist teams, emergency care plans, ongoing physiotherapy and vital specialist equipment, such as orthotics and cough assist machines, were highlighted as important factors that could prevent emergency admissions.
Living longer
Muscular dystrophy and related neuromuscular conditions are a group of rare multisystem, progressive disorders that affect both children and adults, causing muscles to waste and weaken over time.
They lead to increasing disability, and in some cases, significantly reduced life expectancy. Thanks to research and advances in medical technology, and with improvements in respiratory and cardiac care, people affected by Duchenne muscular dystrophy and related conditions are now living longer than ever before.
'Too often adults and children affected by neuromuscular conditions are going without specialist support'
Achieving these significant gains in quality of life requires ongoing input from a coordinated multidisciplinary team of specialist health professionals to manage changing symptoms, to reduce complications and to provide expert advice on equipment and treatments.
But too often adults and children affected are simply going without this kind of specialist support. Given the complexity of these conditions − requiring a range of services across primary, secondary and tertiary care − it is vital that commissioners seize the opportunity to get rare disease care right in the changing NHS landscape.
The UK strategy for rare diseases is being consolidated as part of a collaborative action on rare disease care in Europe. The European Committee of Experts on Rare Diseases has laid out a series of recommendations on centres of expertise for rare diseases, and how key tools such as patient registries can help improve care and research for patients.
Coordination of care via such specialised structures is well recognised to deliver more timely diagnosis, provide access to appropriate multidisciplinary care and enhance the potential for research in these rare and often neglected disorders as shown through our networking activities within the Translational Research in Europe − Assessment and Treatment of Neuromuscular Diseases and CARE-NMD groups.
Delivery of coordinated care for patients with rare diseases has significant potential to save costs and improve patient outcomes.
Commissioning barriers
Historically, the commissioning of specialised neuromuscular services has been patchy. While we have well functioning groups working in very rare neuromuscular conditions, mitochondrial diseases and McArdle's disease, too often we have been pushed in the direction of generic neurological services for the less rare disease groups − this is inappropriate for these patients.
We cannot be slotted neatly beneath "neurology"; we cover genetics, rehabilitation, paediatric, transition and adult care, and work with different underlying pathologies including primary diseases of the muscle, neuromuscular junction and nerves.
'It is important that access to the right services in the community is supported by specialist centres'
While conditions such as cystic fibrosis have their own clinical reference group, rare neuromuscular conditions currently span a number of clinical reference groups.
Clinicians have welcomed the "neuromuscular annex" that forms part of the neuroscience service specification. But we must ensure that the collaborative lifelong multidisciplinary care envisaged within this service specification is also joined up across all the relevant clinical reference groups, such as paediatric neurosciences, multisystem disorders and specialised respiratory groups.
Clear referral pathways
It is important that specialist centres support access to the right services in the community, and to ensure that GPs, neuromuscular care advisers and physiotherapists play an important role in liaising between primary and specialist care.
'The emphasis on joined up strategies for rare disease care provides a real opportunity to create a systematic approach to neuromuscular services'
For example, a child with Duchenne muscular dystrophy needs community physiotherapy − a locally commissioned service. There needs to be a strong link between local teams and specialists because a community physiotherapist may have limited knowledge about rare neuromuscular conditions. The same applies for orthotics, which can help dramatically to reduce pain and discomfort.
The increased emphasis on joined up strategies for rare disease care provides a real opportunity to create a systematic approach to the provision of neuromuscular services.
Delivering cohesive care
The health service reforms need to demonstrate they can deliver cohesive care for rare diseases. It is disheartening to see progress threatened when new schemes, such as the specialised services commissioning innovation fund, are scrapped. This fund had real potential to boost new initiatives for improving neuromuscular care.
One way of bridging the gap between primary and specialist care, as well as between the various clinical reference groups, is through the third sector. The Muscular Dystrophy Campaign − of which I am a vice president − recently received funding from the Department of Health to run a project focused on bringing together patients, clinicians, health professionals and specialised and local NHS commissioners.
'Models of best practice must be shared and developed across the UK'
The campaign is also developing an online map of services where patients, clinicians and commissioners will be able to find out about specialist clinics and local support services. Online training will also be developed for GPs to help address the lack of knowledge in primary care.
Models of best practice must be shared and developed across the UK, such as the Muscle Centre in Newcastle upon Tyne. It is one of England's four main centres of clinical and research excellence for the diagnosis and management of muscle disease.
We support more than 2,000 patients across north England and host clinics where patients can be seen by a multidisciplinary team including a specialist physiotherapist, specialist nurses and a regional care adviser.
We also run outreach clinics across the North East − a good example of a hub and spoke model in operation.
There is an urgent need for sustainable investment support in such centres where knowledge and expertise can be generated and disseminated.
Essential networks
Models for networking are also very important. In the South West, a team of specialists including physiotherapists, family care advisors and consultants, were employed as part of a new managed clinical Neuromuscular Network following a NHS led review of neuromuscular services in 2008.
Now an "operational delivery network" overseen by a group of NHS and patient representatives, it is a fantastic example of how improvements can be made if services are linked together and I would like to see further neuromuscular networks develop.
'Specialists who work with neuromuscular patients must be brought together to share their expertise with community teams'
It is important to bring together specialists who work with neuromuscular patients as a unique specialism, and to share their skills and expertise with community teams.
Neuromuscular services across England need to be appraised as a whole. This could mean formal mechanisms for clinical reference groups currently involved in neuromuscular diseases to work together, or the creation of a single neuromuscular clinical reference group.
We should no longer tolerate a piecemeal approach to rare disease care commissioning.
Supporting centres where expertise can be concentrated and joining up care within a neuromuscular network approach could be effective in improving services within the new commissioning structures.
Professor Kate Bushby is action research chair of neuromuscular genetics at the Institute of Genetic Medicine, Newcastle University