Thirteen days after the number of covid hospital patients peaked in the south east and east, the decline is still moving at a glacial rate.
The number of covid patients in the south east and east reached at total of 5,577 and 4,306 respectively on 13 January. Since then, the total has reduced by an average of 41 a day in the south east and just 29 in the east.
The east region still has covid inpatients equivalent to 234 per cent of the mid-April peak, while the south's proportion is 214 per cent.
Where this trend to continue, the south east would still have 3,594 covid patients at the end of February, a total equivalent to 153 per cent of its first wave peak. On the same basis, the east would have 2,896 – 172 of its mid-April high.
Even allowing for some acceleration driven by falling admissions as result of lockdown measures and the vaccination of vulnerable groups, the regions appear to face months more of extreme pressure.
A slow decline in covid bed occupation is also relevant to government decisions about easing the lockdown.
Schools minister Nick Gibb said yesterday that pressure on the NHS was a very significant factor in deciding when to allow pupils to return, while a promised government plan for the easing of lockdown is said to include levels of covid hospitalisation as one of the key factors.
The snail-like pace in the reduction of covid inpatients comes despite a very strong downward trend in admissions.
In the south east the running seven-day total of admissions is 28 per cent down on the peak recorded on 9 January and the 17 per cent down on the highest number reached in the east three days later.
This suggests longer lengths of stay than in early stages of the pandemic, with critically ill patients filling intensive care and critical care units for weeks, and also increased discharge patients caused by the sheer weight of numbers and the reluctance of the fragile care homes market to take covid positive patients.
The trends within London are more positive, although its peak came just eight days ago and therefore a pattern is harder to determine. The average daily fall in the capital is 142, more than three times the south east figure despite inpatients numbers at the peak being just 42 per cent higher.
The south west also peaked on 18 Jan, and to date seems to be following a trend similar to that of the south east.
Growth in covid patient numbers in the midlands and north has effectively plateaued. The midlands is now in week-on-week decline, while the north east and Yorkshire is not growing.
However, the lumpy nature of the peak was illustrated by the north slipping out of decline and back into small week on week growth yesterday.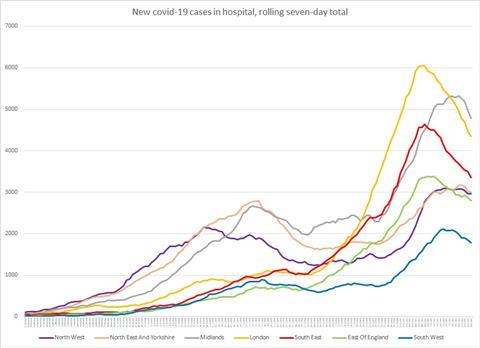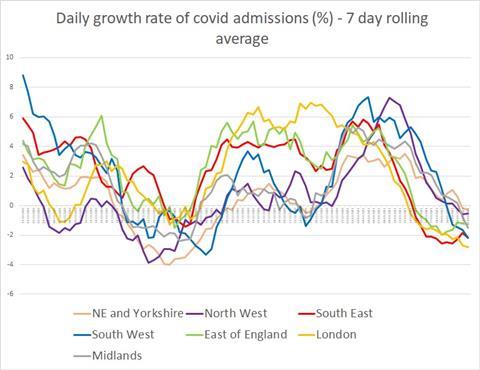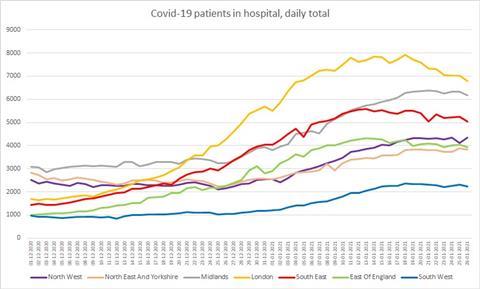 This article is an update to an earlier story
Source
NHS England statistics