London covid-19 bed occupancy is set to pass first-wave peak
Sixteen trusts on course for more than 33 per cent occupancy, including three at 50 per cent
Rapid covid-19 admission rises at London trusts, plus Lincolnshire, Swindon, Cumbria, Essex, Surrey, and Berkshire
At least a third of beds are set to be filled with covid patients by new year's eve, at all the acute trusts across three connected health systems.
The areas are Kent and Medway, east London, and mid and south Essex. A fourth linked health system, north central London, is set to have three of its four acutes record covid bed occupancy of over a third.
HSJ's analysis of the latest NHS internal figures, from 21 to 28 December, has also shown 16 trusts are on course to have at least a third of their beds occupied by covid-19 positive patients.
HSJ looked at the current occupancy and daily growth at each general acute trust in the seven days to 28 December, and projected the same rate forward to 31 December. It gives a similar list to our analysis on 21 December, but with several of the trusts now filling up even faster, and some slowing down. The 16 are: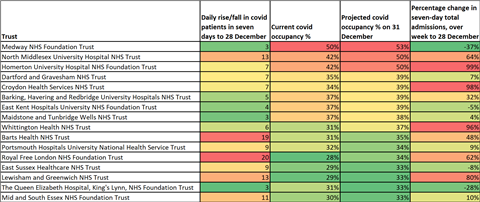 The occupancy rates will put further pressure on trusts' ability to provide care to patients beyond covid-19. Several of the trusts run one relatively small hospital and will have limited flexibility to spread pressure across their sites. The systems with high covid occupancy in all their trusts find it much more difficult to balance demand across their areas — and with all neighbouring areas under pressure, mutual aid is increasingly difficult.
Thirty-two out of the 42 health systems covering England saw growth in the number of covid-19 patients in hospital over the seven days to 28 December.
All four of Kent's acute trusts are on course to have a covid occupancy of 38 per cent or more. The three acutes serving east London are all set to see a third of the beds filled by covid patients. The one acute trust serving the Mid and South Essex area is likely to see occupancy of around a third.
Three of the four acutes in the north central London are building to an occupancy of 34 per cent or more, the exception being University College London Hospitals Foundation Trust.
New cases of covid-19 in hospital (including admissions and those diagnosed in hospital) are now rising very fast in London, especially south east London, which had in recent weeks avoided the worse of the latest outbreaks. The capital appeared on course to break its peak of hospitalised patients from the first wave – when London was the hardest hit region – yesterday or today (for which figures are not yet available).
Only 10 areas are showing a decline in covid occupancy. They were: Cornwall and the Isles of Scilly, Cumbria and the North East, Dorset, South Yorkshire and Bassetlaw, Somerset, Healthier Lancashire and South Cumbria, Devon, Staffordshire & Stoke on Trent, Northamptonshire and West Yorkshire and Harrogate.
Last week admissions doubled or very nearly doubled at nearly a dozen trusts, excluding those with very small numbers: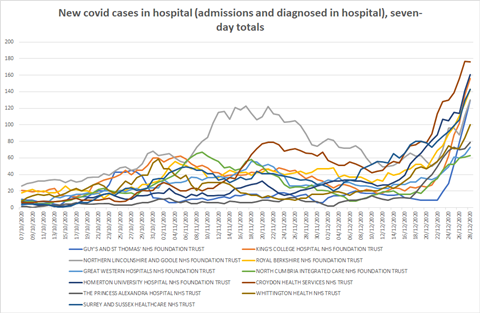 More positively, new covid cases in hospitals in Kent and Medway now appear to be flattening and falling. The area has suffered heavily from the new faster-spreading covid-19 variant in recent weeks.
This chart shows admissions in selected health systems including Kent and Medway, and the five in London: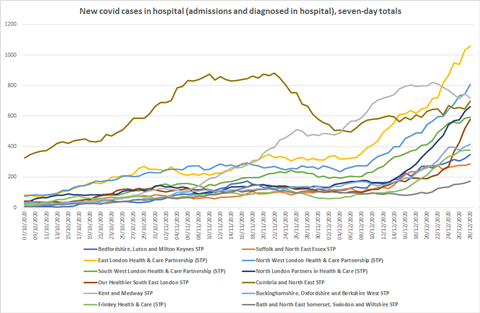 Passing the first wave peak
London's hospitals had 4,957 covid-19 patients yesterday – which is triple the number seen a month ago and 95 per cent of its first wave peak of 5,201 on 9 April.
Figures suggest the capital was set to pass its first wave peak today, if there is a similar increase to recent days.
In NHS hospitals across England, the number of covid-19 patients had passed the record set during the first peak (18,974 on 12 April), rising to 19,277 on 27 December, and 20,426 yesterday.
The Midlands, East of England and South East have also passed their respective peaks.
A total of 14,319 covid-19 patients were admitted in England over the last seven days, around 74 per cent of the record reached on the week of 7 April.
This measure is likely to be severely skewed by faster diagnosis of covid-19 now compared to the spring. However, in the past week, seven-day admissions surpassed the first peak in the East and South East.
London had 3,614 admissions in the last week – more than a quarter of the national total and three times the numbers seen a month ago. The capital saw just over two thirds of its record number of admissions – which was 5,242 in the week to 5 April.
Meanwhile there were 1,641 patients in mechanical ventilation beds across the country yesterday – which is 57 per cent of the peak last spring. A third of these – 556 – were in London, where the number of ventilated patients have doubled in the last month. The South East had 258 ventilated patients – which is 72.7 per cent of its peak in the spring. A much lower share of covid-19 admissions have gone on to mechanical ventilation in the second peak, for a range of reasons, including better knowledge of how to treat them earlier.
The number of covid-19 cases likely to have been caught in hospital was 2,498 in the week leading 20 December – around a fifth of all cases in hospital. This was slightly more cases than the previous week, but a slightly lower proportion.
Source
NHS data, seen by HSJ and published by NHSE